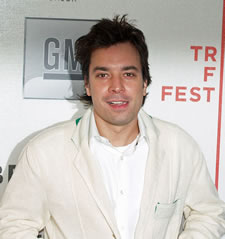 Jimmy Fallon's career has hit a few speed bumps over the last few years. First he was the next Adam Sandler, but of course that meant being the next Adam Sandler. Then he scored a spot doing SNL's Weekend Update, but he got overshadowed by Tina Fey. And then there was that Queen Latifah Taxi movie, which has probably taken thousands of dollars in therapy to forget.
Well it looks like things may be turning around now for Jimmy. The buzz is that the Saint Rose dropout (apparently he's 15 credits short of a computer science degree) and former Metroland receptionist is on the short list for the Late Night chair when Conan takes over for Leno. (Which prompts us to daydream about what we could have done with all those tuition dollars.) Fallon's been on the list for a while now, but with the late night shuffle just one year away he's still hanging in there. And apparently he's the top choice of SNL producer Lorne Michaels, the guy who put Conan in the seat in 1993.
photo: David Shankbone, used under a CC Attribution / Share Alike license

Hi there. Comments have been closed for this item. Still have something to say? Contact us.