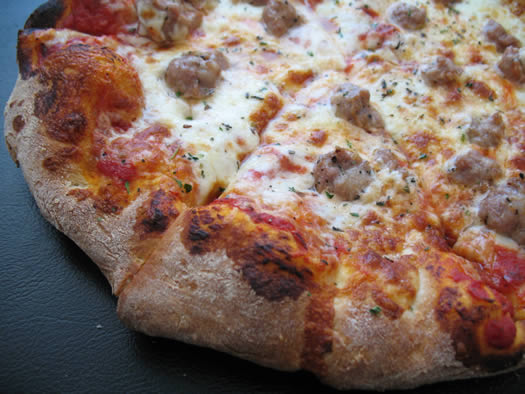 People can be very particular about pizza. One person's pretty-good pie can be another's poor excuse for a slice. But even in the world of pizza, there should be some things we can all agree upon. So, let's start with something that shouldn't even arouse an argument: the pizza at Defazio's in Troy is some excellent pie.
There are a number of things that make DeFazio's pizza great. The crust is light, but still has some substance to it. Their gorgeous red sauce is packed with umami. The sausage topping has a wonderfully subtle flavor. And the pizza's aroma! It's warm and full and happy.
If anything, DeFazio's pizza just tastes like real food -- the sum of real ingredients and old-school know-how. It's not a concept, a ploy or the creation of a food scientist. It's generations of knowledge and technique encoded into a pie. A very tasty pie.
A few things to keep in mind when you visit Defazio's:
+ They don't sell by the slice, so bring a friend. A small pizza is enough for two people.
+ Make sure to stop by their shop next door. They sell great fresh pasta and sauce. And the shop's smell alone is worth a visit.
The Bottom Line
The pizza at Defazio's is great (try the sausage). It's definitely worth its own trip to South Troy.
Find It
DeFazio's
266 4th St
Troy, NY 12180
phone: 518-271-1111
Fourth Street runs one way north. So if you're coming from downtown Troy, take 3rd Street until you hit Adams and make a left. DeFazio's is on the south end of the 4th Street block between Adams and Washington.
There should be street parking nearby
Hi there. Comments have been closed for this item. Still have something to say? Contact us.