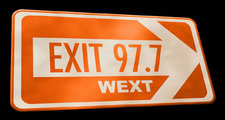 Updated March 19 at 5:21 pm
All this week our friends at Exit 97.7 WEXT are playing shows from the South By Southwest music festival, which just wrapped up. There are a lot of great bands on the slate. We're particularly excited about sets by R.E.M., The Whigs, and the Catskills' A.A. Bondy. Full schedule after the jump.
Exit 97.7's SXSW 2008 Concert Schedule
Monday 3/17
8 pm: Dead Confederate
9 pm: R.E.M.
Tuesday 3/18
8 pm: Jens Lekman
9 pm: A.A. Bondy
Wednesday 3/19
8 pm: Yeasayer and Jens Lekman
9 pm: Bon Iver and A.A. Bondy
Thursday 3/20
8 pm: Vampire Weekend
9 pm: The Whigs
Friday 3/21
8 pm: My Morning Jacket
Saturday 3/22
8 - 10 pm: R.E.M, Vampire Weekend, The Whigs, Yo La Tengo
Hi there. Comments have been closed for this item. Still have something to say? Contact us.