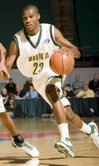 Well, it depends on whom you ask. Are you a wisdom-of-the-crowds kind of person, or do you put your trust in the experts? Because there's some disagreement about the Saints' chances.

According to the masses, the Saints are a long shot. Of all the people who filled out brackets in ESPN's aggregate bracket pool, a little more than 9 percent picked Siena to beat Vanderbilt. Among Yahoo users, the Saints were picked in about 9.5 percent of brackets. The masses seem to be a little more optimistic, though, when you ask which #13 seed has the best chance of winning its first round game: about 1 in 4 ESPN SportsNation voters picked the Saints. (Winthrop was first with 43 percent.)
OK, what about the "experts"? All five of Sports Illustrated's college basketball writers picked Siena to beat Vandy. Vegas isn't so sure, though. The sports books say the Saints are a 6.5 point underdog.
But enough with the squishiness of human prediction... what do the cold, hard stats say? According to Ken Pomeroy's statistical projections, the Saints have about a 23 percent chance of making it to the second round.
photo of Edwin Ubiles: Siena / CSTV

Hi there. Comments have been closed for this item. Still have something to say? Contact us.