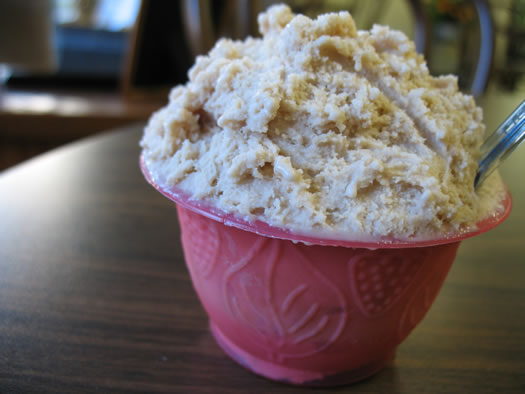 Yeah, it seems like everybody has gelato now. It's the new ice cream. And hazelnut is the new chocolate. But the hazelnut gelato at A Cone of Our Own in downtown Albany isn't just any gelato -- it's a small revelation perched on the tip of a tiny plastic spoon.
The frozen treat hits your tongue -- cool, smooth and dense, but not heavy. Then you start registering the deceptively complex flavors (is that a hint of citrus!?!). Your eyes light up and the only thing you can think is, "OMG! This is gelato? It's great!"
We got our first taste of the gelato at Yono's (we hear it's quite the staff favorite there). They also supply Cafe Capriccio and Vin Santo (a custom black cherry zinfandel).
Cone of Our Own has its own store just off Broadway in the arcade building right across from the Hudson River Way. It's only open to walk-in business part of the year, though. But it's your lucky day because today (April 1) is opening day for the season!
The Bottom Line
The hazelnut gelato at Cone of Our Own is delicious. We can't wait to try more of the flavors.
Find It
Cone of Our Own
26 Maiden Lane
Albany, NY 12207
Monday - Friday 11a - 5p
Also open some Summer Saturdays
site: AConeOfOurOwn.com
phone: (518) 426-3016
Hi there. Comments have been closed for this item. Still have something to say? Contact us.