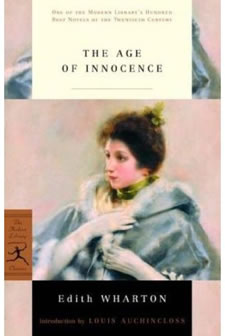 The Upper Hudson Library System has a bunch of things going on this month as part of a national program called The Big Read, which aims to get people grooved on the "pleasure and enlightenment" of reading.
The book at the center of this year's local program is Edith Wharton's The Age of Innocence. If you'd like to read along with everyone else, you can, of course, pick up a copy from any library in Albany and Rensselaer counties. There are also some interesting events (pdf) to go along with the book:
+ There's a screening of the Martin Scorsese's "The Age of Innocence" at UAlbany's Page Hall on April 11. A lot of the film was shot in this area. And a Wharton scholar will be there for some post-viewing discussion.
+ WMHT will broadcast a special on April 17 that includes a tour of Wharton's home in Lenox and the sites where Scoresese shot the film, and a discussion about the story's relevance in 2008.
+ The public radio show Selected Shorts will be at the Guilderland Public Libary April 18 for live readings from the book. The show will be free, but you have to reserve a ticket (456-2400 ext 7).
(Thanks, Macaire!)