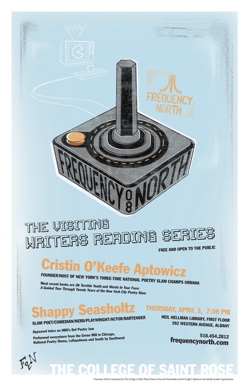 Frequency North, the visiting writers series at The College of Saint Rose wraps up tonight with slam poets Cristin O'Keefe Aptowicz and Shappy Seasholtz.
Nerdy is not so much a word you'd associate with slam poetry, but Aptowicz and Seasholtz promise to appeal to your geeky side, or at least the side that appreciates a good geek. Aptowicz is a humorist and the author of, "Words in Your Face: A Guided Tour Through Twenty Years of the New York City Poetry Slam". Her latest is a book of poems called, "Oh Terrible Youth."
Seasholtz is a playwright and actor who has a bit part in the upcoming Seth Rogan movie "Fanboys." Who does Rogan play? A character based on Shappy. You can see the real Shappy tonight at 7:30 at the Neil Hellman Library at CSR.
Find It
The College of Saint Rose -- Neil Hellman Library
392 Western Avenue
Albany, NY 12203