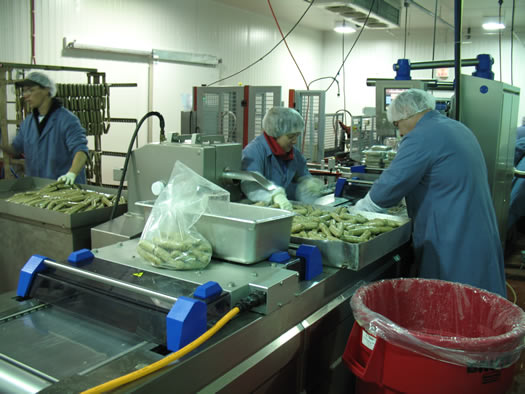 You know that old joke about how there are two things you don't want to see made: laws and sausage? Well, it seems that even if we wanted to see how the state budget bills are coming together, we wouldn't be able to. Watchdogs say this year's budgetpalooza is the most secretive in years and a thowback to "three men in a room."
OK, fine. If we can't see how the budget comes together, we decided to find out how sausage is made. And lucky for us, the folks at Bilinski's were nice enough to give us a tour of their sausage factory in Cohoes.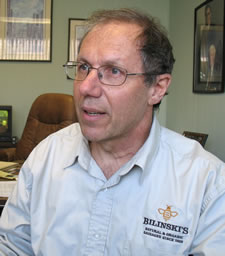 Bilinski's is best known for its own chicken sausage, but they make a whole range of products -- everything from chicken sausage for Target to hot dogs to champagne hams.
Steve Schonwetter, the company's president (that's him on the right), showed us around their factory yesterday. The concepts in sausage making are actually pretty simple: grind up the meat, mix in the spices and other ingredients, form it into links, smoke and cook them, cool them, package them and send 'em to stores.
And, when it comes to Bilinksi's at least, forget most of what you've heard about sausage-making. From what we could tell on our tour, that plant is probably a heck of a lot cleaner than your own kitchen. And not really at all gross. Sure, it smells like sausage, but it'd be a little weird if it didn't. (This is a place that uses a thousand pounds of fresh garlic a week -- that's gonna be pungent, no matter what.)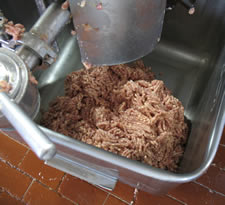 Steve says Bilinski's is working to eventually make all of its products organic and all natural. That, in turn, has made them pay extra attention to every step in their manufacturing process. They actually go visit the farms in Pennsylvania that produce the boneless, skinless legs and thighs used for the chicken sausage. They pay extra to make sure the chicken really is boneless. They log every ingredient that goes into a batch of sausage with the initials of the person who added each ingredient. They clean and sanitize the equipment after every 2000 pounds of product. And they've tried to make the packaging easy to read, with a plain-English list of ingredients, so that consumers can tell exactly what's in the sausage.
They don't have to do a lot of this, Steve says, but he thinks it's the right thing -- for the business and for the people who eat their sausages.
Hmm. Cleanliness, accountability, attention to detail, honesty -- it actually wouldn't be so bad if our laws really were made like sausage.
Maybe we can arrange a tour for state legislators. They might learn something.
Hi there. Comments have been closed for this item. Still have something to say? Contact us.