By Jessica Pasko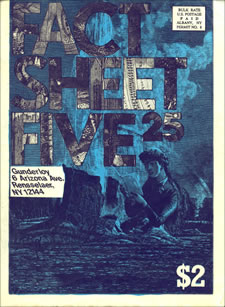 One of the biggest and most comprehensive collections of zines is located right here in the Capital Region. And it's at... the New York State Library? Yep, the New York State Library -- down on Madison Avenue. It has a collection that spans everything from science fiction to punk rock.

A couple of years ago former zine reviewer Mike Gunderloy donated his entire collection to the state library. From 1982 to 1991 Gunderloy published the zine review Factsheet Five out of his Rensselaer County home and amassed about 10 thousand underground publications on sci fi, horror films and music. His collection now takes up about 300 cubic feet in the New York State Library on the 11th floor of the State Museum building. You can't take them out, but you can make an appointment to read them anytime between 9 and 5 by calling 518-474-6282.
If you want to check out some of what they've got, search the catalog using the keyword "Factsheet Five". About 6,000 of the zines have been cataloged so far.
cover image: Factsheet Five
Find It
The New York State Library
310 Madison Avenue
Albany , NY 12202
Open Monday through Friday 9-5. Closed holidays.