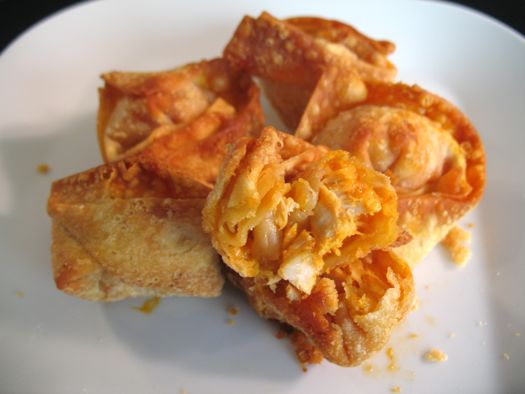 We know, we know, we know... it's just wrong. The idea of a buffalo chicken rangoon sounds like some kind of joke. It's fusion food taken to its trashiest -- though probably inevitable -- end. It's the appetizer of the geography of nowhere.
But if this wrong, we may have to give extended reconsideration to being right.
We can imagine the meeting where these things were conceived. A bunch of industry people are sitting around a room brainstorming ideas for new frozen foods.

Team Leader: Let's do something vaguely Asian.

Guy #1: How about Rangoons?

Team Leader: Great. Quick, lightning round: how many things can we think of to stuff into a fried wonton? Go!!!

Guy #2: Meatballs!

Team Leader: Nice!

Guy #3: Buffalo chicken!

Team Leader: Smokin'!

Guy #1: Blueberries!

Team Leader: Awesome!

Guy #3: Chocolate chips!

Team Leader: Sweet!

And, yet, the On The Go Bistro buffalo chicken rangoons at Hannaford are actually... good. OK, "good" may not be the best way to describe them. Perhaps "well satisfies an urge to stuff your face with somewhat-spicy fried food that goes well with beer while watching a sporting event on your couch" is a better description. And, of course, by "food" we mean a product developed to deliver calories and flavor to your mouth.
So there, we admit it: we've eaten the buffalo chicken rangoon -- with blue cheese sauce -- and it was good. Or something.

Hi there. Comments have been closed for this item. Still have something to say? Contact us.