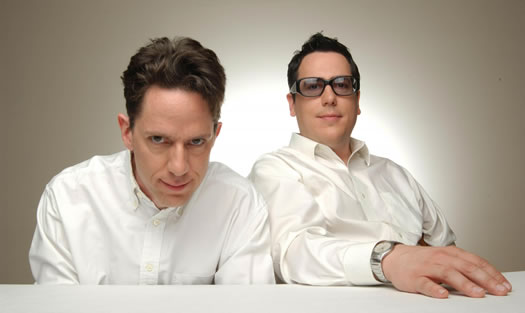 The Egg is "exciting and old," so much so that it prompted They Might Be Giants' John Flansburgh to write a song about it. TMBG is back in town this week to play a couple of shows at the "performance orb." John was nice enough to talk with AOA about one of the stranger venues the band has played -- and let us in on what they were thinking the first time they encountered our giant concrete egg.
What inspired the song about The Egg?
The whole venue songs project was a way to give the band a creative challenge doing a tour that was remarkably similar to previous tours. So we just decided we would write a new song for every show. Some of the songs are specifically about the venue and others are a little more vague or about a theoretical idea about the venue that might not even be true.
The song "The Egg" is one of the few songs I've ever written while driving.
But "The Egg" is actually a very good example of a song that is really responding to the extraordinary qualities of the venue itself. I mean how many venues are like The Egg, you know -- none. It's
sui generis
as they say in the legal profession.

The song "The Egg" is one of the few songs I've ever written while driving. I recorded it on a tape recorder singing out loud. When I got to the parking lot of The Egg I sat in the back of my car and put some chords to it and then I gave it to the band and we played it that night.

There's a line in the song that goes "From the outside I am thinking / What were they thinking?" What did you think when you first saw The Egg?
Well, the whole area is kind of a shrine to Nelson Rockefeller and his vice-like grip on Albany. It's like being on the set of a bad science fiction movie, you know. It's absolutely strange. More than The Egg, from the outside, those very large buildings that surround The Egg seem like physical impossibilities they way they're set up. It's some crazy ass modernist architecture.

What's it like to play there?
It's some crazy ass modernist architecture.
It's a great place to play. The interesting thing about The Egg as a venue is that it's remarkably friendly and it's acoustically sound -- and neither of those things seem possible when you're walking around that plaza. The people who run it are very friendly and it feels very community based.

You've been doing the music for Dunkin' Donuts commercials, and Rachael Ray, who is from the Albany area is also doing Dunkin' Donuts ads -- any chance of They Might Be Giants and Rachael Ray teaming up to do a spot together?
From your mouth to the ad agency's ears.
You know we did a long run with the Dunkin' folks. They're fun pieces. We'll get an assignment that will just be the script of what they are thinking of shooting and some suggested lyrics. They're very kind in that they keep it very vague for us and that gives us an opportunity to create our own material. For instance we got one based on karate and the only note we got was the word "karate." And it turned into something very focused and specific with a mom hauling her kids around to all these different activities but putting the actual piece of music together around the word Karate was really easy because it's such a colorful idea. We'd love to be invited back.

They Might Be Giants at The Egg
Saturday, April 19 at 8 pm
$25
TMGB is also playing a kids show Saturday afternoon at 3pm. Tickets are $10 for children and $15 for adults.

photo: Joshua Kessler
Hi there. Comments have been closed for this item. Still have something to say? Contact us.