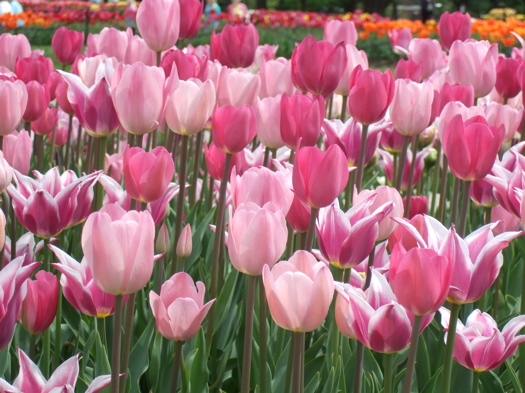 The 60th Annual Albany Tulip Festival kicks off tomorrow in Washington Park, which means tulips have temporarily replaced the weather as default small talk.
But every spring it's the same thing. Someone you're with invariably comments on how beautiful or colorful or happy the tulips look. And that's where the conversation starts to lag. Sure, you can agree. Yes, they are pretty aren't they? There are so many colors. The orange is so... bright. You want to liven things up -- expand on the conversation -- say something fascinating. But you can't think of anything to say. And those damn happy tulips just sit there -- taunting you.
Yep, we've been there too. But what is there to say about tulips?
Albany city gardener Judy Stacey says there's plenty. AOA asked Stacey to pass on a little conversational currency about Albany's city flower so we could entertain our friends
and look like savvy gardeners. Here's what she dropped on us...
A dozen things to know about tulips
1. Tulips are not native to Holland. The first bulb in Holland was a gift from the Emperor of Austria and came from Turkey. A tulip craze began in Holland. Tulips became so popular that vast fortunes were speculated on them. As much as $26,000 in todays money on one single bulb. Then a virus spread among the flowers and many of those vast fortunes were lost.
2. There are over 22 hundred varieties of tulips.
3. Planting them - Tulips need to be planted in the fall. And despite what you may have heard, you should plant new bulbs every year. When you plant a tulip bulb it creates a flower, but it also creates baby bulbs around the bottom. The process exhausts the mother bulb. The baby bulbs take 3 to 7 years to become mother bulbs.
4. Nearly all the tulip bulbs you buy today originated in Holland.
5. All tulip names come from the Dutch Tulip Naming Board
6. It takes 20 years from the time a breeder breeds a new tulip until it can go to market.
7. The flowers open and close with sun and shade and with good and bad weather. The process only takes 15 minutes.
8.Tulips will continue to grow after they're cut. Just put them in some water.
9.Tulips are edible, very much like water chestnuts. You can saute them. They're crispy. (Note: this is not to say you should eat them -- there are indications that part of the plant is poisonous.)
10. This year the city of Albany planted 208,000 tulips. In 2009 they'll plant 209,000.
11. There are 141 varieties represented in Albany this year.
12. (This one's our favorite) There are no black or blue tulips. There is a tulip called the Black Queen of the Night, but it is actually a very deep burgundy. If you want to introduce blue into a tulip display, you can use muscari.
So, take that tulips.
Say Something!
We'd really like you to take part in the conversation here at All Over Albany. But we do have a few rules here. Don't worry, they're easy. The first: be kind. The second: treat everyone else with the same respect you'd like to see in return. Cool? Great, post away. Comments are moderated so it might take a little while for your comment to show up. Thanks for being patient.