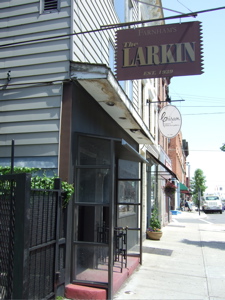 Remember The Larkin? Yeah, that great place next to Elda's on Lark Street with the old
school booths and bar and the great little music space upstairs. Downtown residents have
been missing this favorite neighborhood joint for nearly five years. Meanwhile, the building at 199 Lark has been vacant. But maybe not for much longer.
A company called Buffalo Wagon Pan Asian Cuisine LLC has filed it's intent to apply for a license to sell wine and beer at 199 Lark Street with the Albany City Clerk.
So far no one's officially applied to reopen the place, but an attorney for Buffalo Wagon Pan Asian Cuisine LLC confirmed that they are seeking the license and have plans to open an Asian restaurant. Sounds promising, though we're hoping "pan Asian" works a little better than "pan Australian".
Hi there. Comments have been closed for this item. Still have something to say? Contact us.