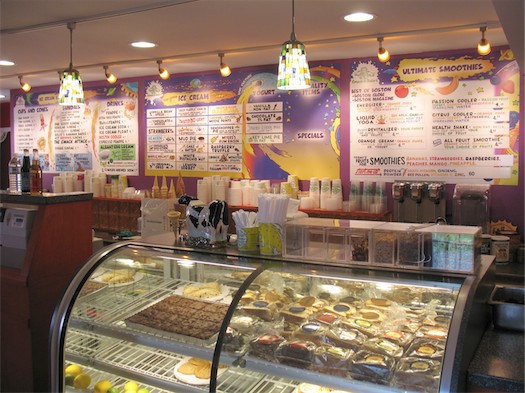 We love ourselves some ice cream at AOA. So we've been looking forward to the opening of "super premium" ice cream joint Emack and Bolio's in Albany's Delaware neighborhood. The A-Town outpost of the Boston-based operation opened today at 11 am. AOA rolled in at 11:07. Here's the scoop...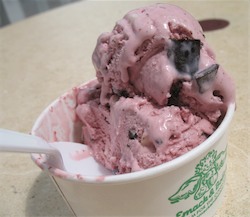 It's good, maybe even very good. The ice cream flavors tend a little toward the wacky, a la Ben & Jerry's. We sampled two of them -- Caramel Moose Prints (butterscotch ice cream, caramel swirl, and peanut butter cups) and Deep Purple Cow (black raspberry ice cream, white and dark chocolate chips, blueberries). Both were smooth, creamy and dense, the flavors bright but not cloying. Without tasting side by side, we'd say the E&B is better than Ben & Jerry's.
We also tried a chocolate "Albany Egg" cream. This was no joke. E&B uses Fox's U-Bet syrup -- and the egg cream we had today was mixed perfectly. It was like tasting a little bit of Brooklyn upstate. The only downside: it came in a paper cup.
One more thing about the menu: there's a "doggie sundae," which is a scoop of vanilla frozen yogurt with a dog biscuit on top. Otto, the AOA office dog, will be joining us on our next trip to sample.
The shop itself is kind of cool. The front is sort of your typical upscale ice cream place, but the back has kind of a coffee house thing going on, with a fire place and a tiny stage. (Live music is scheduled for both Friday and Saturday this week.) And there's free wi-fi.
So, what's with the name? We asked E&B founder Bob Rook, who was working the counter today in shades and a Ramone's t-shirt. He explained that they named their first ice cream joint, a basement after hours rock 'n roll ice cream club (doesn't everybody have one), after two homeless guys he represented pro bono back in the 1970s. The clients had asked Rook to name the place after them. They thought he was going to name the place Don and John's. Instead he used their last names, Emack and Bolio.
The Bottom Line
The ice cream at Emack and Bolio's is good. We'll be going back.
Find It
Emack & Bolio's
366 Delaware Avenue
Albany, NY 12209
Sun - Thur : 11 am - 10 pm
Fri and Sat: 11 am - 11pm
(518) 512-5100
Hi there. Comments have been closed for this item. Still have something to say? Contact us.