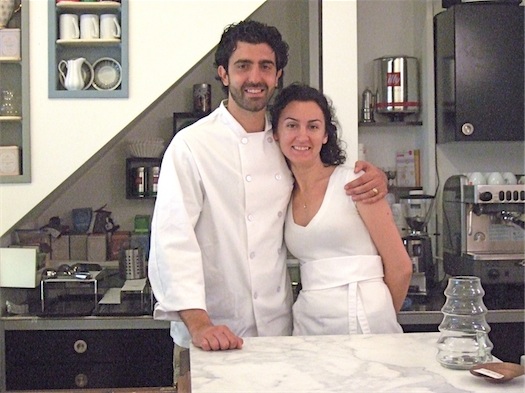 It's a bakery! No, it's an art gallery! Hey kids -- it's a bakery AND an art gallery. And the art is edible. Crisan, the long gestating bakery/art gallery on Lark Street finally opened its doors this morning.
Artist Ana Claudia Crisan Calabria and her husband, jazz musician Iggy Calabria, are offering gelato, beautiful pastries and edible jewelery. Wait... what?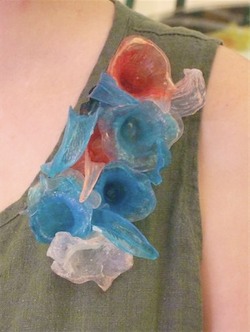 Yep. Edible jewelry. No, not the ring pops and candy necklaces you sucked on as a kid. This is beautiful jewelry (like that broach made from sugar to the right) you can wear now and share later.
Growing up in Romania, Claudia's parents owned a bakery. When she came to the US to study art and jewelry design, she developed an interest in edible art and the interest intensified during grad school. Claudia is now an expert on the subject. She recently gave a lecture at The Smithsonian on the relationship between edible art, the wearer and the audience. And one of her pieces was featured last year in British Vogue.
"There's a whole movement of artists who work in edible art," she says. "The idea is that there's more to jewelry than having it as a precious object. You wear a piece of jewelry, people admire it, there's a connection."
When the jewelry is edible, she says the experience changes. "When you can eat a piece of the art off of the person, it becomes fun or erotic.
Before long, Claudia hopes to display all sorts of edible art at Crisan, including her own edible jewelery.
So why the pastries? "You always have to support your art," Claudia says. "And I think this is the appropriate medium for that."
Hmm. Well today we tried some of the pastries, including a light flaky number filled with melted feta. It tasted like art to us.
Find It
Crisan
197 Lark Street
Albany, NY 12210
updated July 1, 2008
Tues - Sunday 10 am - 10 pm
closed Mondays
(518) 445-2727
Hi there. Comments have been closed for this item. Still have something to say? Contact us.