By Heather Lumb
When it gets this gross outside, shopping just seems to swell with probable cause -- new clothes so you don't suffocate in jeans; wandering around air-conditioned shops; you've finally seen every movie in the Regal Cinema Megaplex 18 and it's only Tuesday. Ah, but what to buy to keep you cool in every sense of the word. Here are a few "fundamentals" that we found shopping around the Capital Region that will live through the trends and actually induce a kind of warm and fuzzy nostalgic feeling:
Shorts!
Fear not the hanger and runway appeal of high shorts. They're an instant style boost, but won't carry through more than a couple of seasons. The childhood love of denim -- in an updated darker rinse and not cutoffs -- will be all you need. Express in that Colonie monolith has these side-slit pair ($39.50) (above) with just a swirl of embellishment on the tush.
American Apparel Tees!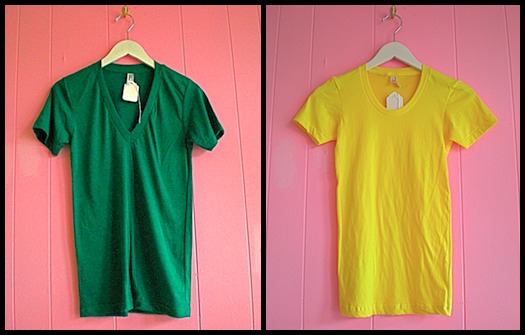 The only material you'll want on your body in sticky stuffy Albany heat is made of American Apparel magic. The deep vee ($20) is flying fast off racks and looks so laid back that it just might become the "didn't-you-wear-that-yesterday?" staple. All their tees are longish (the other pretty one is $19), so this just means that you can wear them with every single thing you own. Grab a handful at Some Girls in Albany or Troy.
Dresses!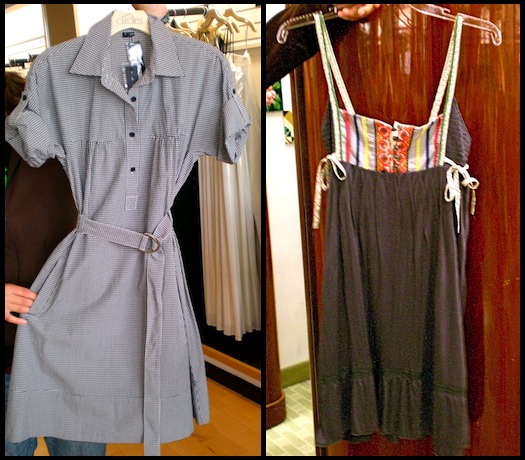 This was a given, seeing as every major/minor/status quo retailer is chuck full of 'em. This Theory gingham number ($295) from Circles in Stuyvesant Plaza will fly for work time (yay--pockets!), and the Free People soft cotton frock ($108) from "the good Macy's" is begging for play time.
Neon and Sparkles!

Obviously, decorating your entire ensemble in glitterati flair might be a little too...too. But neon ($6.90 for a set of two) or sparkle ($6.90) on plastic on bangles that stack like Lincoln Logs? Suddenly your tank top and jeans got their own shot of energy. If Lucite scares you, H & M (Crossgates) carries some boho wooden ones as well and they all come in sizes.
The Bathing Suit that Not Everyone Else is Wearing!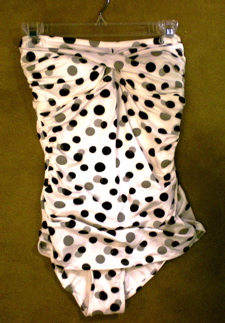 I understand the appeal of fitting in on the beach and all that self-conscious awareness, but this suit won't fail too many. It's a one-piece, a bandeau strap is included, ruching equals sexy, and it carries the personality of a vintage Barbie. The "Good Macy's" in Colonie Center had this Jantzen ($100) on the wall.
* These items are meant as "inspiration," meaning, no I don't really expect you to pay $300 for a dress for work. But it is a really nice dress...
Hi there. Comments have been closed for this item. Still have something to say? Contact us.