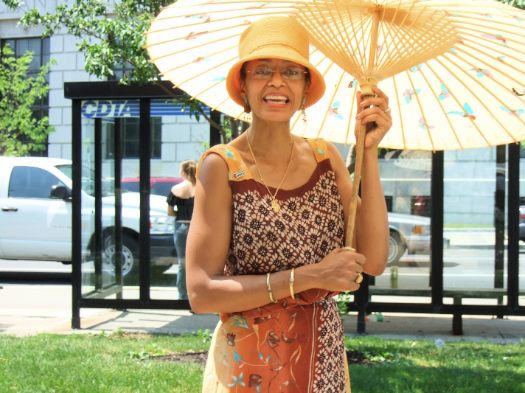 Who?
Sherri, founder of a women's organization from Harlem.
Where?
Outside the capitol building on Washington Ave.
How do you describe your fashion style?
Eclectic. My mother always told me to wear long things that are long and flowing.
Where do you shop?
I live in New York City. I prefer the small boutiques.
What's up with the parasol?
I used to use this as a lampshade in my apartment. I put a light behind it. Friends suggested I could use it this way.
Can anyone wear a hat?
Yes. It's like a crown, you just have to accept it. I'm pretty tall and it adds even more height, but so what.
AOA's take:
The colors, the pattern and the long flowing dress work wonderfully, but it's the hat and the parasol that made us turn our heads. We're still not sure everyone could make it work, but Sherri totally does.
Hi there. Comments have been closed for this item. Still have something to say? Contact us.