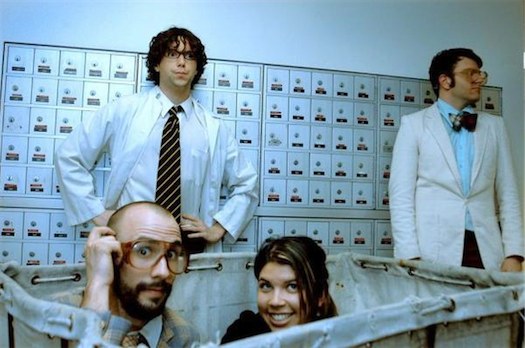 By Jessica Pasko
Update: Their appearance has been canceled due to illness. But it looks like they'll be playing Glens Falls (for free!) on July 5.
Move over Schoolhouse Rock, The Mathematicians are taking "math rock" to a whole new level.
Yes, we said it. Math rock. It's coming to Art on Lark. And we promise it's far cooler than it sounds.
Under the pseudonyms Pete Pythagoras, Albert Gorithm and Dewi Decimal, three former real-life mathematicians produce a unique blend of synth pop, hip hop and electro-rock that's utterly enjoyable. The Glens Falls-based trio even base their songs on math. Songs like "Weapons of Math Destruction," "Binary Girl," and "Hypotenuse of Love" contain mathematically metaphoric lyrics and four-function rhymes.
They've got two albums under their belt, Level One and Level Two, but the real fun is seeing them live. The group tours constantly and their live shows are a total experience. They take their nerd chic seriously, and play every show dressed up in plaid suits, lab coats, bow ties and pocket protectors. Many of their hardcore fans join in the fun, showing up in high water pants and thick eyeglasses with duct tape artfully applied to the bridge as they rock out to the Mathematicians dance-worthy tunes.
You can check them out on Youtube but they'll also be returning to the Capital Region with an appearance at Art on Lark this Saturday. Their 12:15 p.m. set is definitely not to be missed.
And don't forget your pocket protector.
Earlier on AOA:
+ Drew D'Amelia, the Mathmaticious guy
photo: The Mathematicians
Hi there. Comments have been closed for this item. Still have something to say? Contact us.