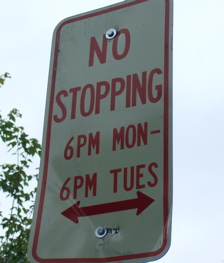 Now means now. Not fifteen minutes ago. Not five minutes from now--but now. At least when it comes to alternate parking rules in the city of Albany. If you live on an alternate parking street in A-Town, it's not uncommon to see folks moving their cars a little early in an effort to avoid a ticket and grab a coveted space near home. But last week residents on one Washington Park side street were surprised to find an officer ticketing them for having moved too early. About fifteen minutes early.
Which prompted us to ask if there's a grace period for alternate parking.

Albany P.D. spokesman Jim Miller says no. But what if it's only a couple of minutes? No. Even if we moved early to be sure we comply with the law? No.
Miller says it's important that people comply with the signs for safety reasons. "If street sweepers or emergency vehicles need to get through, the streets need to be clear. If cars are parked on both sides of a narrow street it could be dangerous."
A few minutes here or there can be a subjective thing, so do officers get any training or guidance on judging when to give the ticket. Miller says they don't. They just comply with the signs. So if you're parking in A-town be sure and check for alternate parking signs. And bring a watch. This is one time when being an early bird could cost you the worm (read worm as 25 bucks).

Hi there. Comments have been closed for this item. Still have something to say? Contact us.