By Heather Lumb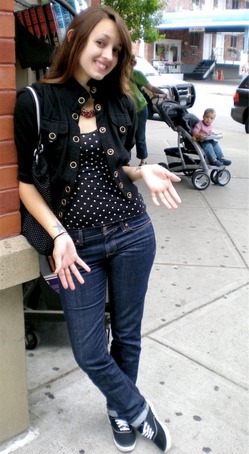 Who?
Rachel, a marketer for All Star Body Art in Scotia.
Where?
Outside Borders on Broadway in downtown Saratoga.
Sum up your style with one word.
Classy!
(click on Rachel's pic for a closer look)
Where do you score such a fine-tuned outfit?
The jacket is from Forever 21, jeans from Old Navy, shirt from H&M and these shoes are Keds. Other than those places I travel to the city for some serious shopping.
What fashion rule do you love to break?
I'm into mixing black and brown. It's not really a rule but everyone thinks it is.
What do you think of guys in vests?
I'm down! I definitely love seeing vests on guys!
AOA's take:
Stop-and-stare fashion doesn't have to mean one particular item, although Rachel's new wrist tattoos and her anti-hoodie big button jacket gave her cool kid status. If you're a fan of skinny jeans, remember to cuff 'em if you're going for classy, and pin-thin polka dots can help, too.
Hi there. Comments have been closed for this item. Still have something to say? Contact us.