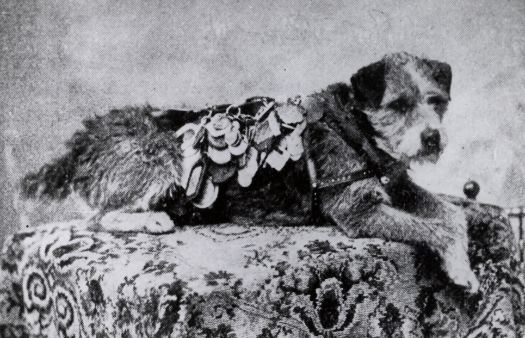 Just before the beginning of the last century, Albany was known all around the world. Because of a dog.
No, really. It's true.
From the Smithsonian photo collection:

Owney was a stray dog who wandered into the Albany, New York, post office in 1888. The clerks let him stay the night, and he fell asleep on a pile of empty mailbags. Owney was attracted to the texture or scent of the mailbags and began to follow them, first onto mail wagons and then onto mail trains. Owney began to ride with the bags on Railway Post Office (RPO) train cars across the state, and then the country. The RPO clerks adopted Owney as their unofficial mascot, marking his travels by placing medals and tags from his stops on his collar.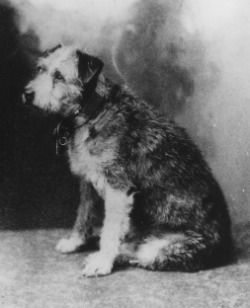 Owney accumulated so many medals that they started to weigh down his neck. The Postmaster General heard about this problem and ordered a special vest be made so that Owney could wear his medals and still get around.
In 1895, Owney was sent on a trip around the world -- in part via registered mail (classification: "Registered Dog Package") -- and made it back in a little more than four months, a feat which was front page news.
The New York Times described Owney as "[not] a handsome dog, but he has excellent qualities, and is kindly and intelligent."
The travel bug eventually did Owney in. After being sent back to Albany for retirement in 1897, Owney slipped onto a train and wound up in Toledo where he met his death. There are conflicting reports about what happened, but apparently he was being mistreated during an interview and he bit a reporter. The postmaster there decided that Owney had become a danger and had the dog put down.
Upon hearing of his death, postal clerks all around the country chipped in money for an Owney memorial. But how do you memorialize such a special dog? Plaque? Statue? Commemorative mail bag? Even better: they had him stuffed. He's now on display in the National Postal Museum's atrium.
More photos of Owney from the Smithsonian's collection on Flickr.
Hi there. Comments have been closed for this item. Still have something to say? Contact us.