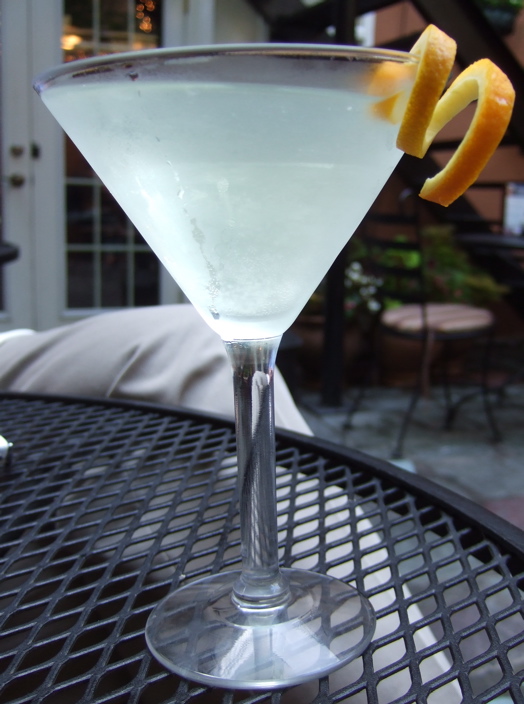 OK, we're not martini connoisseurs . We've been known to order them shaken, not stirred, straight up with a twist just because we've heard it before. But we're also not fond of sticky fruity drinks with lots of juice and umbrellas in them. If you like a summer drink that's dry and cool with just a hint of citrus and a few bubbles, you may just find your new favorite cocktail at DeJohn's on Lark Street.
That's where we found ours.
The Mid Summer Nights Dream Martini was invented last summer when the bartenders at DeJohn's were looking for something fun to do with the new lime-infused Tangueray Rangpur gin. So, they poured it into a martini glass, gave it a little extra splash of lime and added (this is our favorite part) "a fizzle of champagne." Then they garnished it with a few crushed eucalyptus leaves.
Wait, what?
Yep, eucalyptus. And it worked very nicely. Unfortunately eucalyptus is apparently pretty hard to get, so they've switched to an orange twist, but we still ask if they've found some every time we stop in.
The Bottom Line
The Rangpur provides the essence of citrus without being sticky, and the champagne lightens the whole thing it up, but keeps it dry. The combination makes for a cool, clean finish that goes down dangerously easily and is best sipped slowly. Yes, you'll be tempted to go for another round but (trust on this) one is plenty.
Find It
DeJohn's
288 Lark Street
Albany, NY 12210
Hi there. Comments have been closed for this item. Still have something to say? Contact us.