By Heather Lumb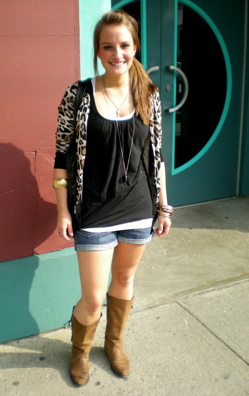 Who?
Emily, a student intern for the state.
Where?
Outside the Spectrum Theater on Delaware Ave.
Sum up your style with one magnetic poetry phrase.
Raw, funky, more sophisticated.
The outfit hails from?
The leopard print cardigan and a good chunk of the bangles are from Spain. The shorts are from Express, and boots from Urban Outfitters. I'd go to Spain to shop Bershka and Blanco all the time if I could.
What do you build your daily look around?
How I feel! And today I feel sweaty... but also really excited!
AOA's take:
Let's all just take a moment to appreciate the whimsy of mixing FUN into your daily wardrobe. Looking serious can make you feel quite respected and all that, but dressing to the tune of excitement or amusement is -- oh, what the hey -- AWESOME.
Emily wants you all to know that H & M and Urban Outfitters (albeit a drive), works in a pinch if Spain isn't in your shopping plans.
Hi there. Comments have been closed for this item. Still have something to say? Contact us.