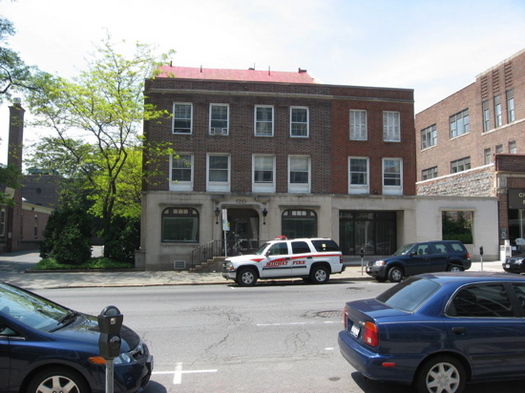 It sounds like the plot of a Frasier episode. The folks at the exclusive Fort Orange Club in Albany want to knock down two old (possibly historic) buildings and spend about $4 million on 22 parking spaces and some squash courts. So what? The buildings belong to them. No problem, right?
Well, some of the club's neighbors say it's not that simple. They'd rather not have a parking lot for a neighbor and they don't want to see the club tear down "perfectly good buildings." Back in June many of them showed up to voice their opposition to the project at City Hall. And earlier this week they turned out at a public forum on the project.
So, if the club already owns these buildings, why should other people get a say what it does with them? We asked one of the opposition group's coordinators, Colleen Ryan. We emailed the question. She emailed back.
If the Fort Orange Club owns the property, why shouldn't they be able to do what they want with it? Why should others in the neighborhood get a say?
Some points from Ed McMahon (not THAT Ed McMahon) Senior Resident Fellow of the Urban Land Institute --
Zoning is the basic means of land use control employed by local governments in the United States. It has been around since 1916, the year when New York City enacted the nation's first comprehensive zoning ordinance to protect the health, safety, and welfare of residents packed into crowded urban tenements.

The two most common objections to land use regulation are, first, a perceived loss of control. Zoning opponents say, "If you own a piece of land, you should be able to do what you want with it." Second, there is a pervasive fear that regulation of any kind will reduce property values.

Historic district zoning may limit one's use of property (by regulating demolition and the character of new construction), but there is no evidence that it reduces property values. On the contrary, there are dozens of studies that demonstrate just the opposite.

When an individual or an organization wants to do something that's prohibited by the city's ordinance (let's say I'd like to open a slaughterhouse on Spring Street...) they have to go before the Board of Zoning Appeals to request a variance. It's up to that body to approve or deny the Fort Orange Club's requests for variances filed to support their expansion plans.
The neighbors don't technically "have a say" in what the Fort Orange Club does with those buildings, but we (as taxpayers and voters) wish to have our voices heard and our concerns considered. We hope that information that we present through the Forum will encourage the BZA to deny the Fort Orange Club's requests, and encourage the Club to explore alternative site plans that will preserve the historic buildings and the street-scape.
_____________
So, we can see both sides of this. What do you think about it? How much say -- through the zoning board -- should people have over this kind of project?

photo: Eric Hoppel
Say Something!
We'd really like you to take part in the conversation here at All Over Albany. But we do have a few rules here. Don't worry, they're easy. The first: be kind. The second: treat everyone else with the same respect you'd like to see in return. Cool? Great, post away. Comments are moderated so it might take a little while for your comment to show up. Thanks for being patient.