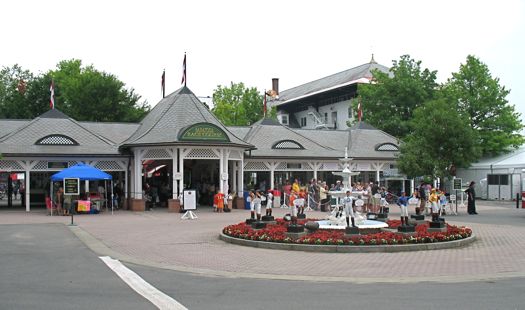 By Mike Hare
From the Editors: With the return of track season in Saratoga, we figured we'd drop some conversational currency about the Spa City on you. Impress your friends over drinks at the Adelphi! Fill that awkward silence with out-of-town guests! Be a know-it-all! We'll feature a new fact/tidbit/historical note each day about Saratoga from now until September. Here's the first...
Quick, what's the oldest sporting venue in the United States?
The Saratoga Racecourse.
Back in August of 1864, boxer-turned-politician John Morrissey and a handful of investors gambled that the war-weary public would pay to watch thoroughbreds compete. Their hunch paid off.
Thoroughbreds have raced at Saratoga nearly every summer since the Civil War, and the track's world-wide popularity is so great that a few years ago Sports Illustrated listed it as the tenth best sports venue in the world. But Saratoga Racecourse could pull ahead, because Sports Illustrated's winner, Yankee Stadium, will soon be disqualified.
Mike Hare is the author of Saratoga Lives and a Spa City tour guide.