By Jessica Pasko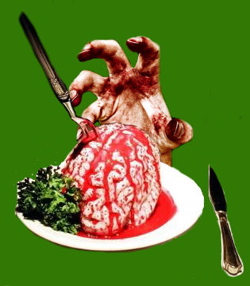 BRAAAAIIIINNS!
Prepare for a zombie invasion this Saturday as the Zombie Film Feast staggers into Albany.
Local film-making group Upstate Independents and game store Zombie Planet have teamed up to present a day of films about everyone's favorite undead folk, along with a few gruesome extras.
Films begin at noon and continue right on through midnight, running the gamut from the satire "Shaun of the Dead" to cult classics like George Romero's original "Night of the Living Dead." They'll also screen a handful of short zombie films by local amateur movie makers.
You can even watch wannabe zombies challenge each other to a brain-eating contest. Contestants will have to scarf down as many Jello brains as possible in 60 seconds. You can catch the Zombie Film Feast this weekend at WAMC's Linda Norris Auditorium (the brain eating contest starts at 8). Tickets are $6 per film or $20 for the full day of events.
Find It
The Linda Norris Auditorium
339 Central Avenue
Albany, NY 12202