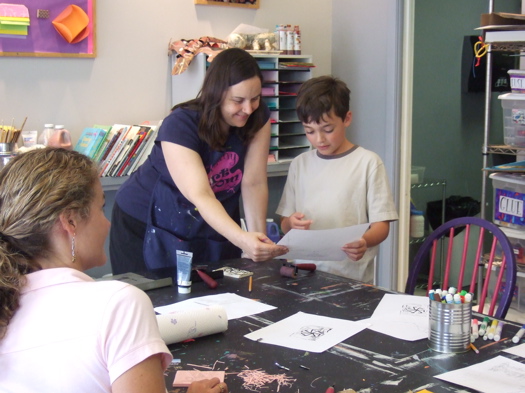 The Albany Art Room is pretty much what it sounds like. It's a big room (actually 3 rooms) filled with just about anything you can use to make art. There are buckets and boxes of crayons, markers, paper, paint, stencils and brushes. There are beads and strings and easels. There's glitter and paste and a big box filled with pretty purple sand. There's just all kinds of fun stuff.
And for $5 an hour little kids and little kid wannabe's (otherwise known as grown-ups) can play with all of it, and take their creations home.
Karen Schupack says she started The Albany Art Room because she wanted something like it in the world, and she thought other people might like it too. In between coaching
budding young artists and their parents, she told us why.
How did you even think of this idea?
"My mother was an artist. We had a big barn in our back yard and it was filled with art supplies. We'd be out there all the time working on projects. It was great!
I grew up thinking everyone had someplace like this. Later I learned they didn't. So I decided to make one. I used to be a private school teacher and administrator. I'd
just had enough of the non-profit world and I wanted to do something I loved.
So who comes to The Albany Art Room?
We have kids who are 18 months right through adults, so you never know what a day is going to bring. There's a lot of learning going on. And it's not just kids learning from grown-ups. Very often it's the other way around. Adults will watch the kids paint on canvass and recognize this freedom that kids have with the art form, and it changes how they paint.
What kinds of projects do people do?
There's drawing and painting, we have a sewing machine, there's beading and printmaking. People can bring in things they want to decorate. They bring in furniture they want to paint. All kinds of things.
$5 an hour doesn't sound like much. How does a business like this survive?
It's actually $5 for the first hour. There's a one hour minimum. Every hour after that is broken down into 15 minute increments. We do have some extras like little boxes you can buy and paint and take home, but I'm not a very good salesperson and I don't really push them. It's important to me that everyone can afford to do this. We have parents who come in with their kids and little kids who show up on their own with their $5. The open studio time isn't the biggest money maker. We have birthday parties for kids, we're running camps during the summer, there are classes at night and next week we're having our first adult party.
Kids doing art projects is kind of a no-brainer, but what do the adults get out of it?
Every Friday night there's open studio time for adults and you never know what people will be working on. The other day there was a guy painting in the back and someone trying to design a logo for a math department out front. At one point I looked out and there was this group of people working on this math problem to try and help him.
There's a lot of de-stressing going on. One woman decided that instead of going away she'd come here every day for her vacation. And people are talking with each other while they work. We have a philosophy professor that comes in and some law professors. The other day I listened to this whole discussion about international justice between people who had just met. It was great.
You have the coolest lost and found ever.
Ha! We thought that would work better than it has. We took jackets and hats and things people left behind, hung them on the wall and turned them into art. A few people have come to pick them up, but most of them are still hanging there!
______________________________________________________________
There's a bunch of cool stuff to see at The Albany Art Room. Here's a peek: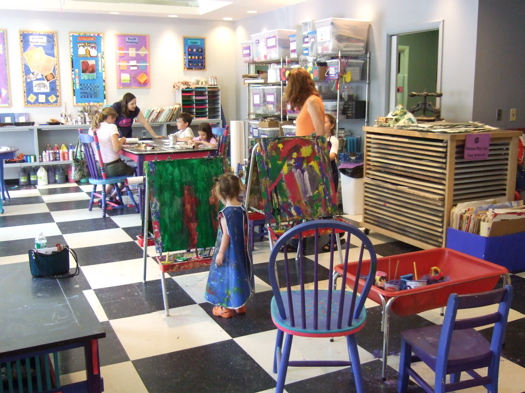 The "open studio" room. There's a quieter space for classes in the back.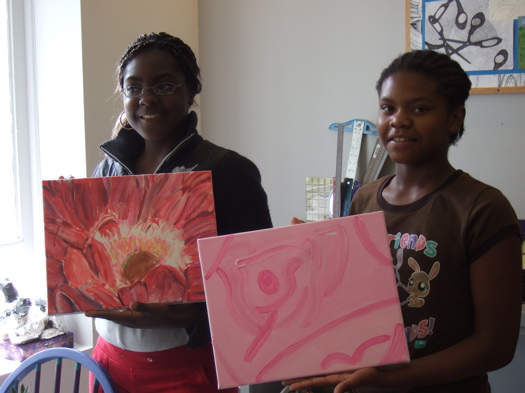 Beautiful paintings by Mar'yika and Oneshia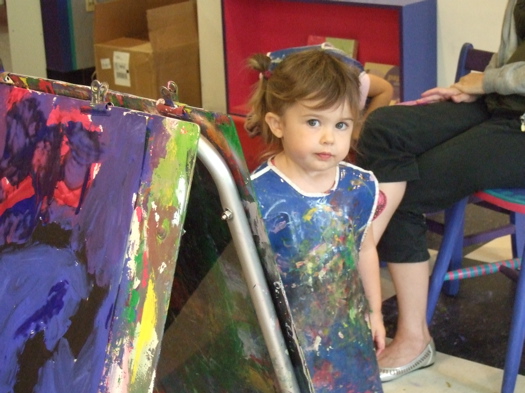 Budding young artist with paint and permission to get dirty.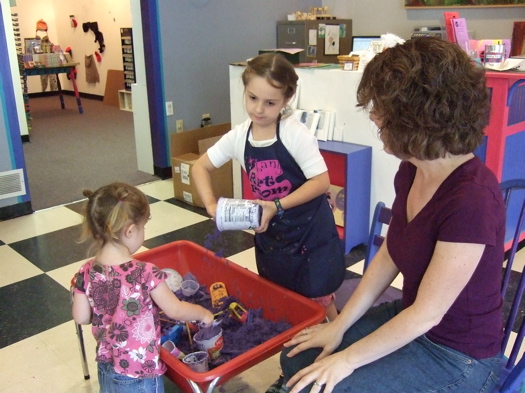 Budding young artists with purple sand (and permission to get dirty).
Find It
The Albany Art Room
457 Madison Avenue
Albany, NY 12210
(518) 427-3910
Don't let the Madison Avenue address scare you, The Albany Art Room has off street parking for it's patrons.
Hi there. Comments have been closed for this item. Still have something to say? Contact us.