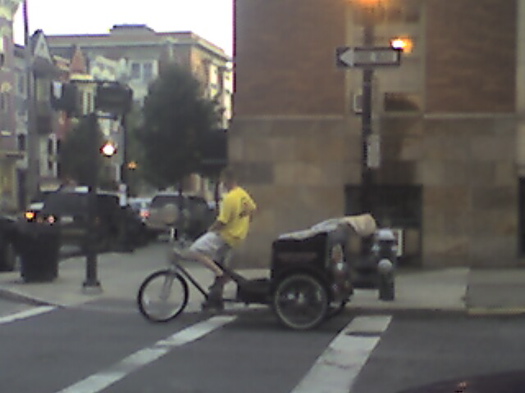 Check out what we found while we were having dinner on Lark Street the other night! (Unfortunately all we had handy was the camera phone, but you get the idea.) Yep, there's a new way to travel in Albany. A very, very old new way to travel.
Right now Albany Rickshaw is a one man company, and that one man is in pretty good shape. Loren Grugan is an Albany police officer, but in his off-hours he'll pull you around the city in his new rickshaw. Loren doesn't stay still for very long, but he put the breaks on to talk with AOA.
So how did you come up with this rickshaw thing?
I took a ride in one a few years ago in Phoenix and I thought it was great. Of course the land is pretty flat there. Then I went to a Yankee game and did it again. At Christmas I was in New York City for my birthday and a took a third ride. That's when I said "I gotta do this!" I retire from the police force in a few years and I want to buy a few more and rent them out like cabs.
New York is a pretty big city. Do you think there's enough rickshaw business in Albany?
I think Albany is a great city for this. I've been riding for two weeks now and it's been pretty busy. I did about 25 rides last Friday night. That worked out to about four people an hour. Gas prices definitely play into this. Twice so far I've taken people from their houses on State Street to the grocery store and back.
What does a ride cost?
I'm still working out the prices. Usually I charge people around $3 for a ride down Lark Street. For two people it's usually $5.
Do you charge more for extra weight?
Ha! I don't charge per pound. That would be insulting. If I make it reasonable then people usually tip me pretty well. You can advertise on the back. That's where I think most of the money will come from, but we'll see. There's a class I'm going to take to learn the business aspect of it. I would have gone already but my wife and I just had a baby.
What does it cost to keep a rickshaw on the road?
The bike was about 5 thousand dollars. It's the top of the line model. It's got Shimano gears and an extra wide seat. I'm fully insured which costs about 12 hundred a year.
What has been the toughest ride so far?
I took someone from the corner of Lark and Madison down to The Governor's Mansion.
That was tough.
Would you ever attempt to haul someone up State Street hill?
Not yet. Right now I can take them down the hill, but not back up. I'm looking into getting an electric assist. Then we'll see.
You must have to be in amazing shape to do this.
I rode the mountain bike for Albany P.D. for 8 years, so I'm used to it. I started running again to train for this. Hopefully I'll get my endurance back up.
How can people catch a ride?
If the weather is nice I'm usually in the Lark Street/Washington Park area from around 6pm Thursday through Sunday and when there are events in the park.
Hi there. Comments have been closed for this item. Still have something to say? Contact us.