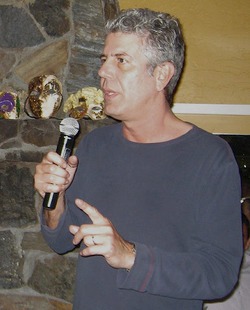 As you might have heard, Tony Bourdain's not a fan of Rachael Ray. He even talked smack about her right here in her own backyard. But Bourdain does know to respect the power and beneficence of the Ray. From a recent interview in the Fort Wayne Journal Gazette:

Bourdain has even chatted sociably with Ray.

"She did not punch me in the nose, so I figure it was a win-win," he says. "I wake up every day happy that she lets me live. She's huge. Incredibly powerful. She can snuff me out at will."

In other RRWDW news, there's now Rachael Ray dog food.
photo: Flickr user Neeta Lind, used under a CC license
Hi there. Comments have been closed for this item. Still have something to say? Contact us.