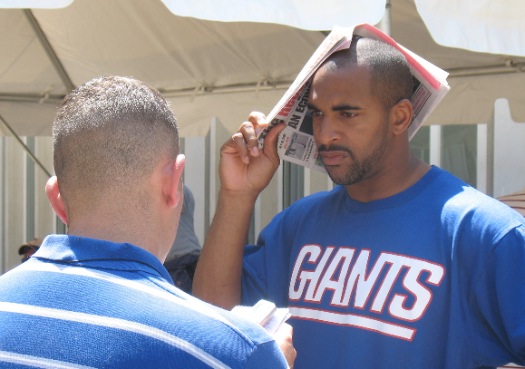 If you didn't see it, you've probably heard about David Tyree's catch during the last Super Bowl. It's the one where the ball looked like it just stuck to his helmet. Some people are calling it the best play in Super Bowl history -- and it's one of the reasons the Giants were able to beat the Patriots.
But the new season is about to start and that means it's back to work... in Albany. Tyree and the rest of the Giants are in town for a month to train for the upcoming season. He took a few minutes away from practice (lunch, actually) at U-Albany to talk with AOA about what it's like to be a temporary A-Towner...
Since the Super Bowl, do you go around introducing yourself as David Tyree, Super Bowl Hero?
No, no, I definitely don't. It's never been my character -- never will be. Sometimes I have a hard time -- as much as I love a free meal, sometimes I think I should use this thing more often but I have a hard time doing that.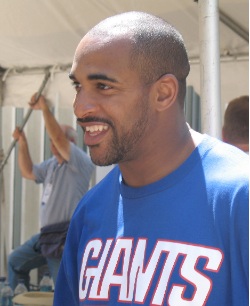 So how often do people bring that up now?
Pretty much every time. Once somebody figures out who I am then that's the topic of conversation, you know. It's expected, understood. I embrace it, enjoy it, you know. The only people I don't like it from is my family (laughs).
When you guys are thinking about coming to Albany for training camp, is it "Albany, great!" or is it "Ohhhh, not Albany again?"
It's usually "ohhh not Albany." (laughs) But I have a few good friends up here so it makes it a little more special for me -- so I'm not as grudging. But you know, it's obviously a month away and if you think about it, it's one twelfth of your year away from your family. Obviously for a good reason. To come and get intertwined. Each year is a new team. So it has some goods and some negatives.
We know you guys are really busy when you're here but you have a little bit of free time. What do you do for fun when you're here?
Uh, man, for fun? (laughs) Fun. Me. Fun. (laughs) I'm such a spiritual nerd I'll probably be sitting there reading my bible and all my theological stuff. Obviously I'll catch a movie at the mall, you know -- go over to Crossgates. I think they're going to do a screening of the Ernie Davis movie for us. I'm a Syracuse guy so I'll check that out this Saturday. That's pretty much it. That's what most guys do. Hit Best Buy up, the ultimate guy shop.
Any restaurants that you guys like to go to when you're off campus?
No I haven't been introduced to any fine dining in the greater Capital Region, yet (laughs). Somebody will have to tune me in on that. [AOA aside: We've heard the food at training camp is fantastic.]
Complete this sentence "Albany is..."
The greater Capital Region. The place where the Governor lives. And where we hang out for a month of the year.
Hi there. Comments have been closed for this item. Still have something to say? Contact us.