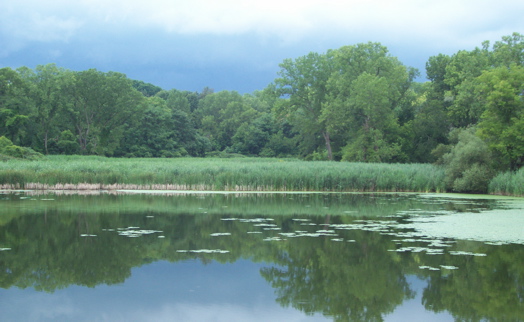 By Jessica Pasko
New York's largest urban nature preserve is Central Park in Manhattan. Where's the second largest? Albany's Arbor Hill. Yeah, we had no idea either.
The city bought the Tivoli Lake Preserve in the Arbor Hill/West Hill neighborhoods back in 1851. Its man made lake was built to be part of Albany's water supply system.
Eventually the land became more of a dumping ground, but in the 1980s community groups and environmentalists cleaned up the area and had it turned into a nature preserve. These days it's cared for by the folks at the W. Haywood Burns Environmental Justice Center.
Tivoli is kind of an urban oasis with all kinds of recreational opportunities. Trails meander through the densely wooded area and circle the lake, offering gorgeous mountain views. It's overgrown and a bit unkempt, but it's still a beautiful place for a nature walk. It's a bucolic jaunt that makes you completely forget about the noise of the city outside, despite its close proximity to Interstate 90. Canadian geese, songbirds, and fish abound, and some people have even reported seeing beavers. The preserve is actually pretty easy to find. The entrance is near Livingston Middle School on Northern Blvd.
Here's a heads-up though -- some of the trail markings are a bit crowded by low leaning plants, so you probably don't want to traverse the trails by yourself unless your natural sense of direction is far better than ours. A map out front shows the trails, but when we were there this past weekend, there were no maps left in the box. Bring a compass ... or some bread crumbs.
Find It
The Tivoli Lake Preserve
Livingston Avenue
Albany, NY
Hi there. Comments have been closed for this item. Still have something to say? Contact us.