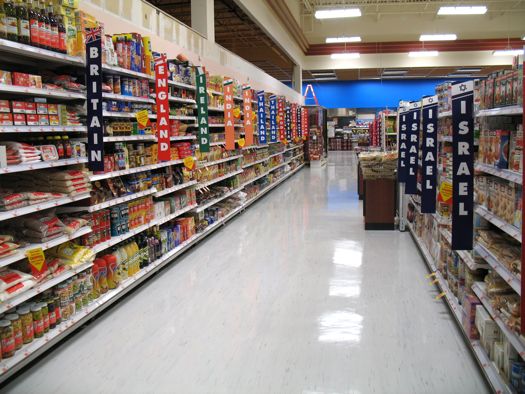 The almost-finished makeover of the Price Chopper on Central in Albany includes a new international aisle -- or to be more exact, two aisles that form a whole section. And it's fun! Really, it is. It's like the EPCOT of supermarket aisles. Here are a few things that caught our eye as we were browsing recently...
DuCoco agua de coco - $3.79 for a 3 pack - Brazil
Hi-C never had coconut water juice boxes when were growing up
Burkhardt curry ketchup - $3.29 bottle - Germany
Who knew Germans loved ketchup with curry? In looking into this, we found there's such as thing as currywurst, which sounds like a great idea. And apparently it's kid food in Deutschland.
Podravka rose hip jam - $3.59 jar - Croatia
We're guessing it's high in vitamin C.
McVitie's Hob Nobs - $5.29 can - Britain
We were happy to see these yummy oatmeal and chocolate chookies, err, umm... biscuits.
Coco lychee drink - $1.29 can - Thailand
This might be the first time we've ever seen a lychee-flavored anything in a supermarket around here.
Long Kow Crystal Noodle spicy sesame paste cup of soup - 3.39 - China
It has just a little bit of salt in it: 1,610 mg of sodium or 67 percent of your recommended daily intake

A few more thoughts:
+ The Latin American soft drink section has six different brands of malta drink.
+ You now have a choice about which country you buy canned quail eggs from -- Taiwan or Thailand.
+ We're thinking Dr. Brown's in the Israel section is a bit of a stretch (especially since it's made in NY). Maybe there needs to be a New York Deli section.
+ The Latin section has its fair share of Goya products, but it's not just Goya anymore.
+ There are 48 shelf-feet of tortillas.
+ If you're looking for gallon drum of soy sauce, this is your place.
+ We found a Pakistani curry mix in the Indian section... and immediately contacted the UN so as to divert an international incident.

Find It
Price Chopper international section
911 Central Ave
Albany, NY 12206
Hi there. Comments have been closed for this item. Still have something to say? Contact us.