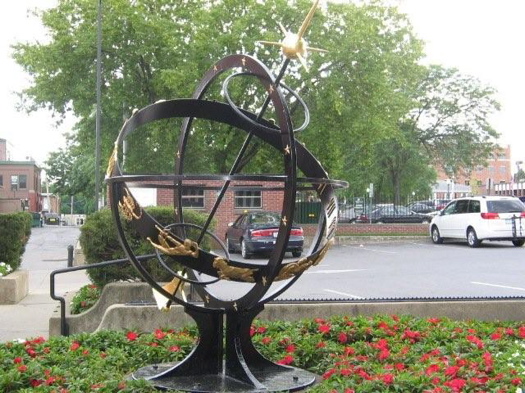 By Mike Hare
If it's 10 AM in New York City, what time is it in Boston? How about Philadelphia? Or Washington D.C.? These questions were a lot tougher to answer before a Saratoga headmaster stepped in and synchronized a nation.
From the time Christopher Columbus landed in the new world until 1883, America's system of keeping time was pretty arbitrary. Each town had free reign to set its own time, regardless of its neighbors' clocks. If it was 10 AM in New York City, it could be 10:10 in Philadelphia or 11:52 in Washington D.C.
With the advent of railroads in the early 19th century it could have gotten better--but it didn't. The railroads set their own "railway times" and municipalities and passengers began to follow them. It all sounds fine, except the railways stipulated different times for different locales.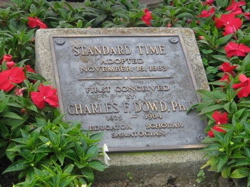 Confusing? Charles Dowd thought so. Dowd was the headmaster at the Temple Grove Seminary (then the main building for Skidmore College) on Circular Street in Saratoga Springs.
In 1869 Dowd devised a system of "time belts" for the U.S. but the railroads resisted.
He spent more than a decade streamlining his system,and trying to convince the railroads, and the government, of its value.
Finally, the railroads caved, and in November 1883, America's clocks switched to what was called, "Standard Railway Time". Eventually the name was shortened to Standard Time, and its derivative, Daylight Savings Time, came along later.
Dowd had beaten the railroad, but in an ironic twist, the railroad was his undoing as well. In 1904, 79 year old Charles Dowd was struck and killed by a train while crossing North Broadway.
Mike Hare is the author of Saratoga Lives and a Spa City tour guide.

Find It
Charles Dowd Monument
Long Alley and Church
Saratoga Springs, NY 12866