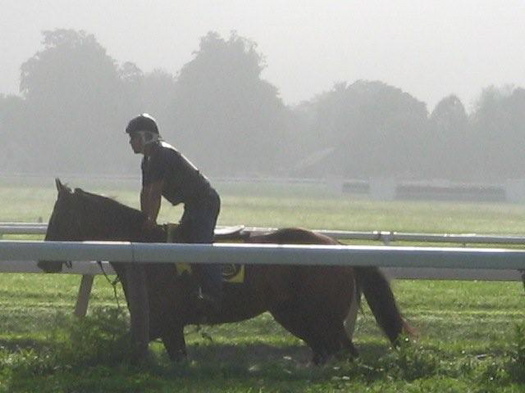 By Mike Hare
What do Rodgers and Hammerstein have in common with Saratoga's training track?
Nothing really. But there's a reason people make the connection.
The Saratoga Racecourse wasn't always where it is today. The first day of racing took
place back in 1863 on the other side of Union Avenue. The first meet was such a hit that John Morrissey and his buddies set about building a bigger and grander course. The Saratoga Racecourse we know today opened in 1864.
So what happened to the old course?
It was renamed "Horse Haven" and turned into a training track.
But by the early 1900's Saratoga had outgrown the facility. The Racing Association
realized that more stall space and a bigger training facility was needed. So they purchased over 100 acres north of Horse Haven, and opened the new one-mile oval.
Interesting, but what does all this have to do with Rodgers and Hammerstein? Nothing, remember? Except this--eventually the training track acquired the nickname "The Oklahoma Training Track." Tell that to a group and see what happens. Invariably someone will start singing the unofficial anthem of "the sooner state" or ask if the training track was named after the R&H musical.
How did The Oklahoma Training Track get it's name? The explaination is more mundane than musical. The accepted story is that one day, someone griped that the training track was so far away from the main track, "it might as well be in Oklahoma." Seriously. That's it.
Mike Hare is the author of Saratoga Lives and a Spa City tour guide.
Find It
The Oklahoma Training Traick
East Avenue and Union Avenue
Saratoga Springs, NY 12866
Hi there. Comments have been closed for this item. Still have something to say? Contact us.