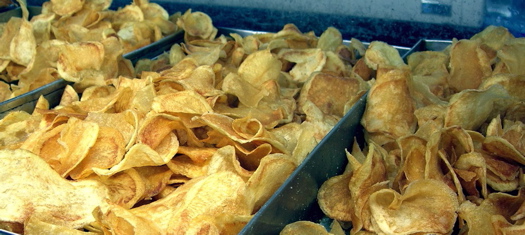 By Mike Hare
You know you can't eat just one, but do you know where they were invented? Or how?
Here's something you can chew on with your next sandwich.
When Cary B. Moon opened the original Moon's Lake House on Saratoga Lake in the 1850s, he had a good thing going for him from the start. He'd hired George Crum to run his kitchen. Crumb was a Native American with a reputation as an Adirondack guide and an accomplished cook.
Crum brought his sister, Katie Weeks, to work alongside him at Moon's. And it was Katie's kitchen experiment that, legend has it, led to one of our favorite salty, fried treats.
One day, Katie was peeling potatoes on the stove when a piece accidentally fell into a pot of boiling fat. She fished it out, put it briefly on a frying pan, then set it on a plate.
George tasted it, and liked it. A lot. (Come on... it was a potato chip.)
Now, we all know you can't have just one potato chip. So George and Katie sliced more potatoes and repeated their "experiment." They cut thinner and thinner slices and learned the thin crispy slivers of potato tasted even better with salt.
Before long, "Saratoga chips" were a big hit at Moon's.
A more dramatic legend about the chip suggests Crum invented it when a rich customer ticked him off. According to that version, the diner sent back a plate of potatoes claiming they were too soft. Annoyed, Crum sliced some potatoes paper thin, burned them to a crisp, and doused them in salt and vinegar. Then he sent them back to the diner who was quite pleased. (Again, it's a potato chip.) This version is more fun, but less likely.
Whichever version you believe, one thing is for sure. George Crum did not become a national household name. The guy who did was a traveling salesman named Herman Lay, who packaged the crispy Northeast delicacy and peddled it nationwide. So really, he's the guy you need to blame for your cholesterol problem.

Mike Hare is the author of Saratoga Lives and a Spa City tour guide.
photo: Flickr user The Gentle, used under a CC license
Hi there. Comments have been closed for this item. Still have something to say? Contact us.