Check out this vintage school bus we spotted this week in Green Island. It's a fully-restored 1941 Brockway bus, seats eight (plus the driver), and is probably the only one of its kind left.
You know there's a story behind this (pictures, too).
The bus belongs to Peter Grimm, who owns Grimm Modern Building Materials in Green Island. He collects vintage trucks -- he says he has 15 of them, all of them "unusual" in some way. (Two are set to be used for Ang Lee's Woodstock movie.)
Grimm's Brockway bus was built in Cortland, New York. In its first life, it transported students for the nearby Virgil, New York school district. Then it was turned over to the Virgil Fire Department. After years of service there, it ended up in the hands of a guy named Jonathan Thompson. He used it as a motor home while he was in college. Really. The stove for the motor home vented out the back of the roof.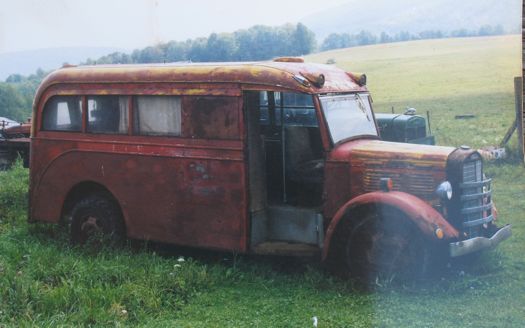 By the time Peter Grimm got the bus in 2002, it was in bad shape. It basically had to be rebuilt from the inside out. The frame of the bus is made of oak -- Grimm says it took a master cabinet maker a whole winter to rebuild it. All told, the project lasted four years and cost, in Grimm's words, "a lot."
OK, so why go to the time and expense of restoring this thing? Grimm seems to feel a connection to the bus. He was born in 1941, same as the bus. And he says he's been fascinated with Brockway trucks ever since his parents gave him a Tuffy the Truck book with an illustration of a Brockway on the cover when he was 12.
"Most people will tell you I'm a bit nuts," Grimm said to us. "Anything with a motor and wheels... I'm into it."