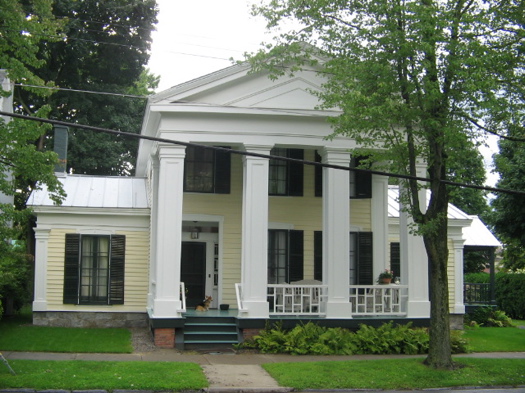 By Mike Hare
One of the raciest residents of Saratoga Springs began life as a prostitute, befriended Napoleon and married a U.S. Vice President. Her name was Betsy Bowen, but she
was better known as Madam Jumel.
As a young woman, Betsy Bowen followed in her mother's footsteps. In 1775 she was born to a prostitute in Rhode Island. But Betsy's career in prostitution was short lived.
At nineteen she found herself pregnant. She left her newborn son in Rhode Island and headed to New York City with a plan. She wanted to become a mistress to rich men.
One of her favorite "sugar daddies" was a wealthy merchant named Stephen Jumel. She decided she wanted to marry him, but he wasn't too keen on the idea.
So she pretended she was dying. He believed her. They got married. She outlived him.
The Jumels had influential friends in America and France, many of them French nobility. She sympathized with Napoleon and is believed to have offered to bring him to New York after his defeat at Waterloo.
When the French economy soured in the 1820's, Stephen Jumel's fortunes did, too. He gave his wife power of attorney and sent her back to the U.S. to sell some of his property. Instead of bailing him out, she used the money to buy her way into New York society.
Now a rich woman, she allowed her poor husband to live in their New York City mansion until he died in 1832, after toppling from a hay cart.
At 57, Madame Jumel married Aaron Burr. The controversial former U.S. V.P. was 79 and in need of money. Betsy Jumel had it. Betsy divorced him for squandering her cash. Shortly after the divorce became final, Burr died.
Madame Jumel spent summers in Saratoga Springs. In 1839, she bought a house on Circular Street, then considered the outskirts of town. In her last years, she flaunted her wealth, riding around Saratoga in fancy carriages, wearing expensive clothes.
She didn't make many friends among the locals, but generations later folks were happy to drop lots of money on Bloody Marys and "Brothel Burgers" at the popular Caroline Street pub that bore the name "Madam Jumel's."
Mike Hare is the author of Saratoga Lives and a Spa City tour guide.
Hi there. Comments have been closed for this item. Still have something to say? Contact us.