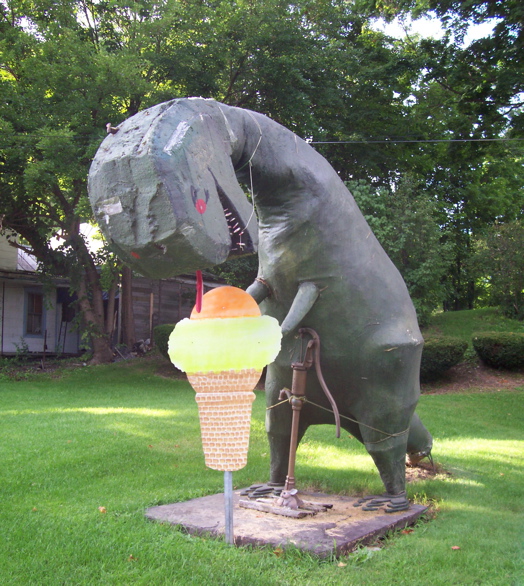 By Jessica Pasko
We've passed this friendly-looking T-Rex countless times while driving through the southern Albany County town of Clarksville. We'd always wondered what exactly the story behind the massive beast was, so last week we stopped and chatted with owner Art Van Praag.
It turns out the giant dinosaur started out as a school project. Kids at the Bethlehem Central School built him out of muslin, chicken wire, foam and paint for a Jurassic Park-themed event.
When the event was done, the students needed to find a new "home" for the dinosaur. Art was working at the school and offered to adopt the big guy. Since then, the dinosaur has enjoyed a happy retirement keeping watch outside Art's Route 443 home (that's the part of Delaware Ave. that extends past Albany and Delmar).
These days he's enjoying an ice cream cone, but check in on him again in a few months. Art likes to change his decor to match the season.
Hi there. Comments have been closed for this item. Still have something to say? Contact us.