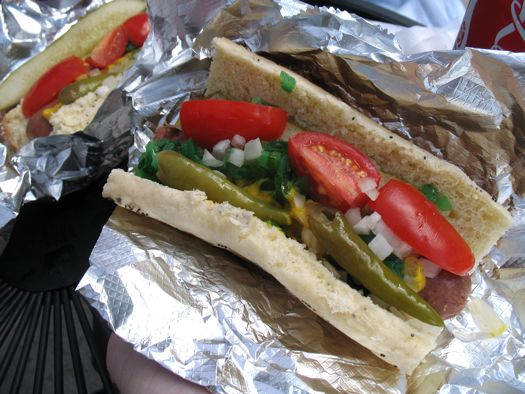 We'd heard about the Chicago-style hot dogs at Nipper's in Troy. But, a hot dog's a hot dog, right?
Well, we've never had a hot dog like this before.
First off, to call it a "hot dog" doesn't quite capture it. The hot dogs at Nipper's are, in classic Chicago style, just the starting point. On top of them goes a pile of of other stuff: mustard (ketchup is apparently a faux pas), neon green relish (it probably glows in the dark), onions, "sport" peppers, a slice of dill pickle, tomatoes, and a hit of celery salt. It's like a whole meal in a (poppy seed) bun.
That said, the dogs themselves are worth noticing. They're Vienna Beef Franks, which have been hailed as a sort of king of tube meat products. Viennas hadn't been available in this area until Bob Shenise and Walter Szwetkowski opened Nipper's this year. To get a hold of the prized franks, they had to order 5,000 of them from the company. (They've been storing them frozen in two chest freezers.)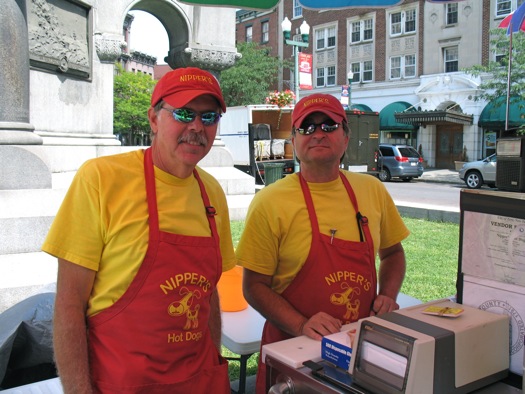 Bob and Walter learned the "art of the cart" at Hot Dog University in Milwaukee, Wisconsin. And it seems like they were diligent students, because the hot dogs we had yesterday were pretty darn good. And at two for five bucks, they're a great deal. (Bring a friend... one is enough for each person.)
This is the first year for Nipper's and it's already well-traveled. The stand started out in Loudonville, but got bounced by the Town of Colonie for not having the proper town permits. It landed in Troy's Monument Square and Bob says things have been great there. He says they'd like to come back to Troy next summer, but they might look for a spot with more foot traffic (and maybe fewer Subways).
Nipper's will be in Troy for another two weeks before finishing up its season at the Waterford Tug Boat Roundup September 6 and 7.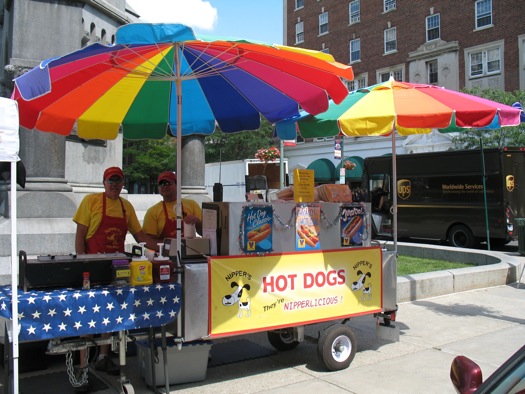 Find It
Nipper's Hot Dog stand
Monument Square
Troy, NY 12180
Mon - Fri 10 am - 2:30pm (weather permitting)
nippershotdogs.com
Hi there. Comments have been closed for this item. Still have something to say? Contact us.