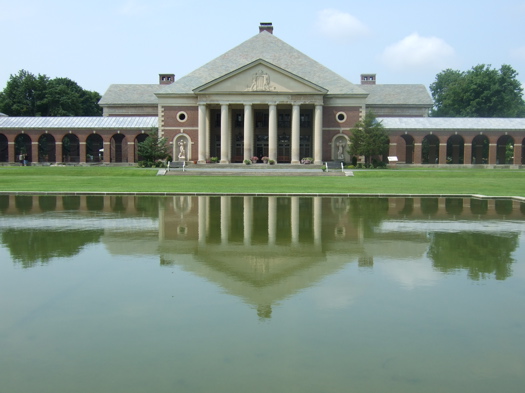 By Mike Hare
On a hot summer day in the depths of the Great Depression, Saratogians found something other than water, and much more valuable, beneath the ground.
Excavation for the new Saratoga Spa's first building, the Hall of Springs, began with a surprise. On July 25, three workers for the Schenectady company in charge of the excavation found twenty dollar gold pieces in the ground. The news spread fast. Within an hour, hundreds of enterprising men and boys, armed with shovels, pickaxes, and hatchets, started digging. They found jars and bottles filled with gold and silver coins. Most of the coins were minted in the 1880s. Some were worth twenty dollars. All were worth their stated value, which reached about one-thousand dollars.

Many of the prospectors went home that afternoon, newly rich. Late comers kept digging through the night, hoping to unearth another lode. These miners had to settle for stray dimes and quarters.

So where did the cash come from? In the late 19th century, the Pettes family of Henry E. Pettes, a Saratoga Springs Mayor, owned extensive estates on the land. Long-time residents remembered that his mother, Mrs. Lyman Pettes, had a habit of hiding money around the house. She'd hidden the jars of coins in the basement. Family members evidently forgot about her frugal habits when the estates were demolished.

When word got out about the excavation, the State attempted to claim the coins for itself, or return them to the folks who last owned the property. Fortunately for the Saratoga gold diggers, the old "finders keepers" rule won out.
Mike Hare is the author of Saratoga Lives and a Spa City tour guide.
Hi there. Comments have been closed for this item. Still have something to say? Contact us.