By Mike Hare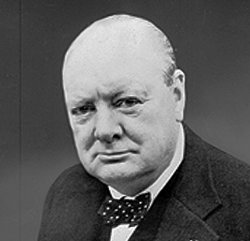 He has nothing to do with Kentucky's "Churchill Downs" but Winston Churchill does have a connection to the Saratoga Racecourse.
When William Travers was named the first president of the Saratoga Association, an aristocrat named Leonard Jerome was vice-president.

Jerome had a wife, Clara, three daughters, and a reputation as a ladies man. Rumors linked him with singer Jenny Lind, known around the world as the "Swedish Nightingale," and many believe his daughter Jennie was named for Lind.
Jennie Jerome was ten when the Saratoga Racecourse opened. Three years later, after her father had another well publicized affair, her parents divorced and her mother moved the girls to Europe. There Jennie, known for her charm and beauty, met the second son of the Duke of Marlborough. Smitten, he asked her to marry him. He was also known as Lord Randolph Churchill.

Wedding arrangements were complicated. Leonard Jerome insisted that Jennie receive a $10,000 annual dowry directly, rather than having it split between the newlyweds.
Less than eight months after the wedding day, Lady Randolph Churchill gave birth to a baby boy. She named him Winston.

In the summer of 1876, Lord and Lady Randolph Churchill visited Saratoga. Jennie called her hotel costs "absurdly expensive". One reason for the high hotel bill was that she and her husband stayed in separate rooms. Lord Churchill, at this juncture, reportedly began suffering from syphilis.
Young Winston did not make the trip to Saratoga with his parents. Much, much, later in his life, Winston Churchill owned thoroughbreds. However, he is best remembered for other accomplishments.
Mike Hare is the author of Saratoga Lives and a Spa City tour guide.

Hi there. Comments have been closed for this item. Still have something to say? Contact us.