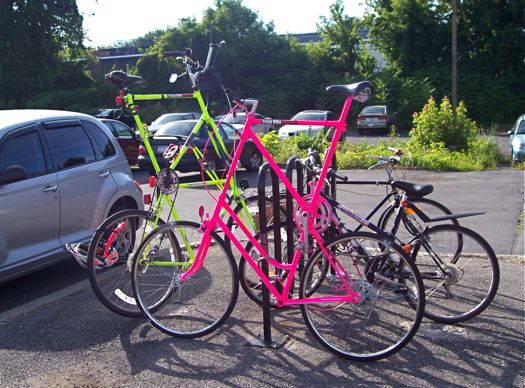 By Jessica Pasko
Alright, you know riding your bicycle is good for the earth and good for your physical fitness. Did you know it's also good for getting you discounts?
The program Bicycle Benefits is aimed at promoting biking by rewarding individuals and businesses. Here's how it works: cyclists join the program by a buying helmet sticker for $5. Then when they take a ride to a participating business, they show the sticker and get a discount. (Stickers are available online and at participating businesses.) Simple, right?
The program's only been established in a few communities and a handful of stores so far, but that includes several Capital Region locations. At The Spectrum, for instance, members get a discount on popcorn and on beverages from the Ultraviolet Cafe next door. Other local participants include Albany's Daily Grind, the Miss Albany Diner and Esperanto in Saratoga. A full listing can be found on the program's site.
Wilton native Ian Klepetar was inspired to start the program locally after a trip to Montana. For the past two years, he's been working on getting the program off the ground, but we just started noticing the "bicycle benefits" stickers at some of our favorite coffee shops within the last month.
It sounds like a great way to give yourself one more reason to ride your bike.
Earlier on AOA: And it's the bike by a mile!