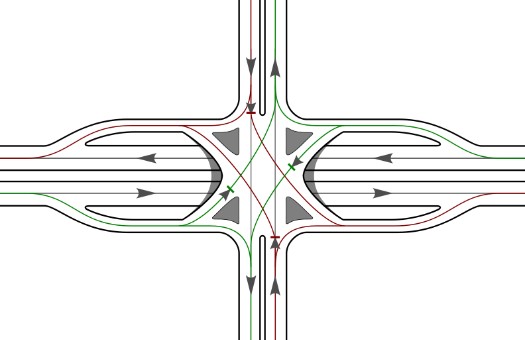 As Fred highlighted this morning, the new Rt 7 bridge over the Northway in Latham will feature a single-point urban interchange or SPUI.
A what?
The current interchange at the Rt 7 bridge is what's called a diamond interchange. (Go have a look at a satellite picture of the spot.) The diamond is built around two sets of traffic lights, one on each side of the interstate. Even though it's called a diamond, the heart of the layout resembles a rectangle.
Well, a SPUI is like a diamond, but that rectangle at the heart is squished into something closer to a square. And at the middle of the square is a single set of traffic lights. Yep, one set of signals for the whole interchange -- it's the "single-point" in single-point urban interchange. Check out this video diagram of one from the Missouri Department of Transportation.
There's a good Wikipiedia entry about SPUIs that lists the layout's advantages and disadvantages. The short story:
good
+ SPUIs are reportedly more efficient at moving vehicles through an interchange.
+ Crashes that occur inside them tend to be less severe
bad
+ They can cost a bit more to construct.
+ Clearing snow from them can be difficult. In some cases, the interchange has to be closed to get it clear.
+ They can be hard for cyclists and pedestrians to get through.
+ Research also indicates that a SPUI's overlapping lane lines can be confusing to people who have never seen them before (there's anecdotal evidence, too).
So, start studying. You have a few years to get caught up. The SPUI on Rt 7 isn't scheduled to be finished until 2011.
(Thanks, Fred!)
image: Wikipedia
Find It
Rt 7 and I-87

Latham, NY 12110
Hi there. Comments have been closed for this item. Still have something to say? Contact us.