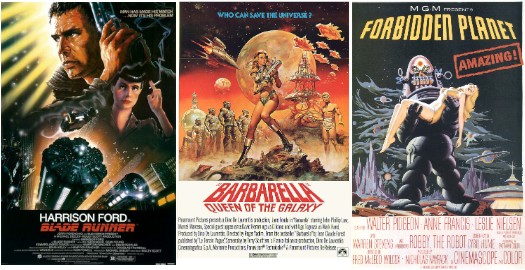 By Jessica Pasko
One of the organizers of the first It Came from Schenectady film fest says the event "began as the musings of four dorks in tinfoil hats who happen to be in the right place with the right set of tools, toys and passions."
OK, stop. You had us at "four dorks in tinfoil hats."
The 24 hour sci-fi film fest (yep, 24 hours of movies) takes over Procotor's this coming weekend. It's named after a short story collection of the same title written by Barry Longyear, who's agreed to speak at the event. The film version of another Longyear book, Enemy Mine, will be shown too.
Other can't-miss films include campy favorite Barbarella, a new film biography of sci-fi writer Harlan Ellison called Dreams with Sharp Teeth, and Japan's Tokyo Gore Police. Oh, and don't miss one of Leslie Nielsen's first roles in the cult classic Forbidden Planet and the newest cut of Blade Runner.
Co-organizer Peter Hughes says the festival had a viewer's choice contest to decide on some of the other films that will be shown, and the winner of those surveys will be announced -- and shown -- at the festival.
"Our fest had something extreme and foreign, and better yet, a regional premiere," says Hughes. "Barbarella and Mystery Science Theater 3000 bring fun to the event."
Local coffeehouse The Muddy Cup will be providing plenty o' coffee to keep people awake throughout and attendees are welcome to come and go as long as they've got a wristband. Bring snacks, non-alcoholic drinks, pillows, and slippers if you want.
The details:
Proctor's Theater in Schenectady
September 13-14, noon to noon.
Tickets for the entire festival are $35 in advance. There's also a $20 pass that gets you in for 8 hours.
For more information, call (518) 346-6204.
Hi there. Comments have been closed for this item. Still have something to say? Contact us.