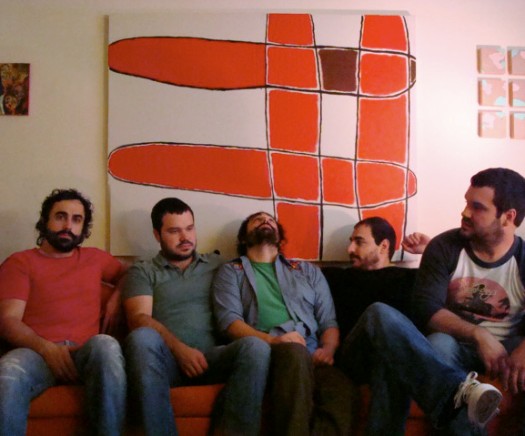 By Jessica Pasko
They've been called a "non-goth goth band," but really, Albany's Severe Severe isn't exactly goth. OK sure, they're influenced by 1980s bands like Joy Division and the Cure, but they've definitely got their own unique sound.
And you can check them out as part of the quality lineup at this weekend's SoCo Music Experience at the Altamont Fairgrounds (MGMT*, Justice, The Whigs and others).
Mike Capritta, Kurt Amelang and Nico Jordan produce a sound that's a little dark and a little experimental with a good helping of ol' fashioned rock and roll thrown in for good measure. The trio's also influenced by bands like Sonic Youth, Blonde Redhead, Public Image Limited and Wire.
Here's the story: Guitarist and vocalist Nico was living in LA in 2003 when he invited his cousin Mike and childhood friend Kurt to move out there with him and start a band. Originally called The Duration, they later changed the name to Severe Severe and moved to Memphis. They went their separate ways for awhile, doing their own projects until they rejoined in 2005. Their first real gig was a club in LA that was used to film the strip club scene in a Rob Schneider flick. (Check out this video of them playing more recently at The Annex in NYC.)
Now back in New York where Mike and Nico grew up, the boys recently released an album called Beyond the Pink, and they're also working on new material they hope to record before the end of the year.
"We'll definitely be fatter by this time next year and most likely balder," Mike joked. "We're also thinking of growing breasts and unibrows."
The SoCo Music Experience starts this Saturday at 2 pm at the Altamont Fairgrounds. It's free -- but you have to be 21 and have the ID to prove it. (Yep, that's SoCo, as in Southern Comfort, as in this is a concert/marketing event.)
*MGMT had to cancel at the last minute because of an injury to its drummer. They're being replaced by Matt and Kim.
photo: Severe Severe
Hi there. Comments have been closed for this item. Still have something to say? Contact us.