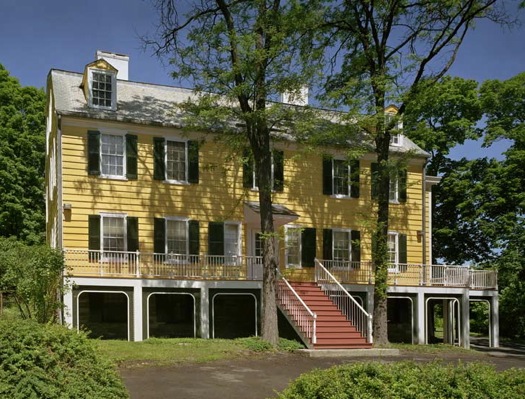 By Jessica Pasko
A nationally-famous scandal and murder mystery resulted in Albany's last public hanging in 1827 on a site near where the ESP now stands (kind of makes the drunken revelry of Alive at Five seem tame). The actual murder occurred in the South Albany home of one of Albany's most famous families, the Van Rensselaers.
And, as it happens, you can now take a Halloween tour of the murder site.
Historic Cherry Hill's Becky Watrous says Jesse Strang was hired as a handyman to help on the farm at Cherry Hill and he apparently became romantically involved with a woman living at the estate, Elsie Lansing Whipple. Whipple and her husband were boarders of the Van Rensselaers and John Whipple was frequently out of town for work.
One day John Whipple was in one of the mansion's upstairs rooms when a bullet flew through the window and struck him. He stumbled out of the room and died at the top of the stairs. Eventually police arrested Strang and he was convicted of Whipple's murder.
Watrous says the story attracted so much attention that people came from all over the East Coast to witness the hanging. Newspaper accounts from those days say thousands of people attended, leading city officials to make it the city's last public hanging. The case itself brought up issues of women's rights, social class, slavery and many more social and ethical dilemmas.
It's a pretty fascinating and somewhat lurid tale, and there are still a lot of details historians can only guess at, such as whether Elsie Whipple was involved in the murder. The details and mystery are at the center of the behind-the-scenes murder investigation tour Cherry Hill has put together in honor of Halloween.
The tours are booking up fast, so Watrous suggests making reservations as soon as you can. The special two-hour tour is $18 for adults and $10 for children over 12. It's on October 25th at 1 pm -- to book a spot, call the museum at 434-4791.
The mansion itself is open for regular tours Tuesday-Sunday through December for $5. We hadn't been there in about seven years and were pretty impressed at what a cool place it really is. The grounds are beautiful, too.
photo: Cherry Hill
Find It
Historic Cherry Hill
525 South Pearl St
Albany, NY 12202
Hi there. Comments have been closed for this item. Still have something to say? Contact us.