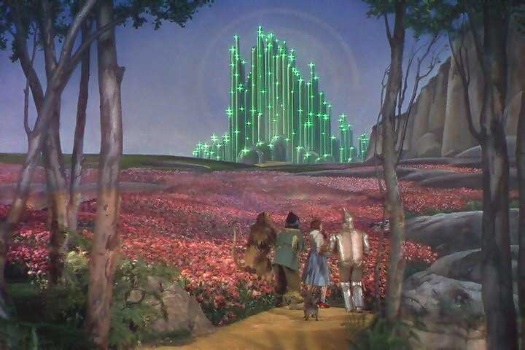 There are two film screenings tonight that you might be interested in -- though for totally different reasons.
The Palace Theatre is showing The Wizard Oz. Sure, you've already seen it (hundreds of times) -- though we're guessing that seeing it on the big screen a horse of a different color (oof). And if you really want to dress up the experience, ponder the economic and and political allegories woven into the story as they relate to the current Wall Street Meltdown and presidential race.
Or not. We recommend just enjoying the ruby slippers and the flying monkeys. The screening starts at 7 pm. Tickets are $5.
Also tonight is a screening of The Russian Question at the Spectrum. As it happens, our knowledge of 1940s Soviet cinema is limited, so we'll let the blurb from the Spectrum site take it from here:

Based on a play by K. Simonov, The Russian Question (1947) is a rare Soviet Cold War film that shows the Soviet perspective on the Cold War. It tells the story of Garry Smith, an American journalist who spends time in Russia and sees socialism in action. Upon his return to the United States, a prestigious editor asks Smith to write a book about his experience. A handsome advance is given, and Smith and his fiancé are able to buy a house, a car and other symbols of the American dream. But the advance comes with a caveat: Smith's book is to be a real hatchet job against Soviet society. Will Smith simply keep the money and do what's expected of him? or will he instead speak the truth?

Others have described the film as "a fascinating piece of inaugural Cold War agitprop" and "flat-out Soviet propaganda." There are two screeings today: at 1 pm ($6.75) and at 6 pm ($8.50).