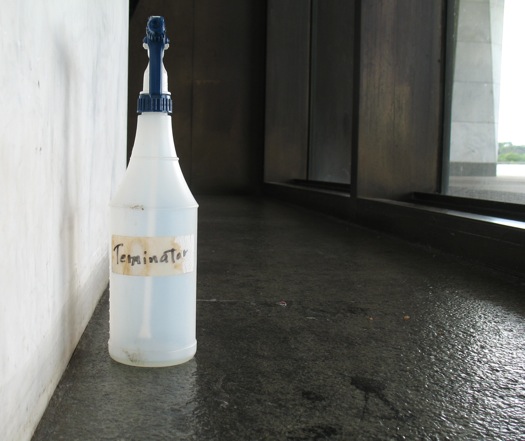 While wandering around the 4th floor of the State Museum recently, we noticed this bottle sitting by one of the windows. It made us laugh a little for a couple of reasons:
1. The stuff -- whatever it is -- is called "Terminator." It sounds like Formula 410 or something.
2. Something called "Terminator" is just randomly sitting out in the museum.
We poked around a little bit online to try to find out what this mystery agent might be, and this product looks like a good candidate. "A powerful and effective deodorizer and all-purpose cleaner with a crisp, fresh scent that will linger for days. Eliminates odors on contact. Ideal for use in locker rooms, meeting rooms, bathrooms, classrooms, shower rooms, closets, chutes and sick rooms."
Museums, too, apparently.
Hi there. Comments have been closed for this item. Still have something to say? Contact us.