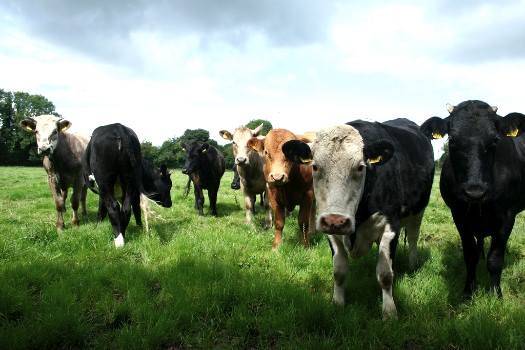 By Amy Brozio-Andrews
For a few years now I've heard of people who buy a whole beef, that is, all the beef from a single cow, at one time. It takes a pretty sizable freezer because we're talking more than 300 pounds of meat.
How hard could it be, I figured, to find a butcher to order my whole cow through?
A lot harder than I thought.
After cold-calling a long list of local butchers, I got in touch with Chris Kenmah at Honest Weight Food Coop who put me in touch with Paul and Phyllis Van Amburgh at Dharma Lea Farm in Sharon Springs, NY.
I talked to Phyllis Van Amburgh and learned more about where my beef comes from than I could have ever imagined. Turns out that fall is actually a pretty good time of year to order your beef.
At Dharma Lea Farm, you go out and choose your own grass-fed cow. You buy the cow first (around $2,300 or so, with the final amount depending on the weight of the meat). Most of the cows at Dharma Lea Farm are medium frame -- Angus, British White, and Devon -- with hang weights of about 550 pounds and about 55% yield. Once the cow has been slaughtered and sent to the butcher, then you can go pick up your beef. If you'd prefer to go with USDA-certified, then the final cost is a bit more.
If a whole beef is a bit more burger than you'd like, you can also order a half beef or a split half, or go in on the purchase with family or friends.
Paul and Phyllis Van Amburgh
Dharma Lea Farm
Sharon Springs, NY (map)
(518) 284-2546
You might also try:
Sweet Tree Farm
East Dummerston, VT (near Brattleboro)
(802) 254-4634
According to its site, Sweet Tree takes reservations for whole beefs in February for spring and June for fall.
Michelle Hicks
Rhinebeck, NY
(845) 453-4903
Celina, of CelinaBean, has gotten a whole beef (and freezer lamb) from Michelle.
photo: Flickr user Fiona MacGinty
Hi there. Comments have been closed for this item. Still have something to say? Contact us.