By Jessica Pasko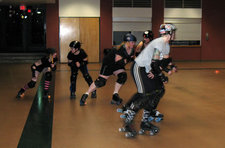 So what's the deal with the local roller derby split? Why did the Hellions of Troy break from the Albany All-Stars?
Derby lady The Beirut Bombshell tells AOA the new team came together after certain ideological differences couldn't be worked out. She says she and some members of the All-Stars weren't happy with the way the teams were run and wanted to take a more democratic approach, and focus more on the athleticism than the entertaining antics.
The entertainment element seems to have played a big part in all this. Here's what Dottie Damage, captain of the All-Stars, told the TU: "The Albany All Stars have always thought of roller derby as equal parts entertainment and athleticism. We don't want to lose that showiness. We have silly names, we dress up funny -- that all goes into it."
So now there are two teams. The Hellions will be following the rules and regulations established by the Women's Flat Track Derby Association, and won't be as into the brawling or theatrics as some teams are, according to Bombshell. They also hope to plan more bouts, more practices and develop stronger relationships with other roller derby leagues.
The two 518 leagues will be alternating their practices in their shared spaces at Rollerama and the Washington Ave Armory. The All-Stars already have their fall bout season lined up and will be playing their home games at the Armory like last season. Later this month they'll be traveling to the Poughkeepsie-area to take on the Hudson Valley Horrors.
Meanwhile, the Hellions are still figuring out the details of their schedule but they're hoping to hold their hometown bouts at the Armory as well. They hit the road for their first official bout this coming Saturday, Oct. 11 when they take on the Ithaca SufferJets on that team's home turf, where they'll be joined by a few guest skaters from Utica.
If you can't make that, but you're still interested, you can also check out their recruitment session/open practice on Oct. 14 from 7 to 8:30 p.m. at the Armory.
And here's hoping the All-Stars and the Hellions hook up for a bout in the future. What better place to work out their differences than on the track.
Hi there. Comments have been closed for this item. Still have something to say? Contact us.